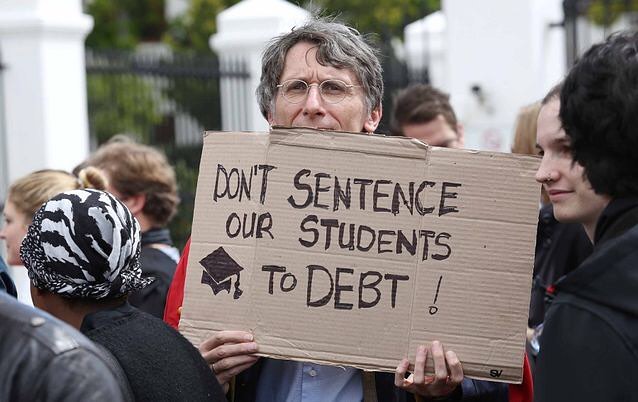 With our recent Fees Must Fall movement happening within our Universities it really makes you think hard about our Country. We've worked so hard to produce a non-racial, fair and equal society for all, but after 22 years of Democracy we seem to be moving backwards. A small minority of students are holding the majority hostage. Not just in their current day to day student lives, but they are detrimentally affecting each student's future as well, which will ultimately affect the economy and future of our beloved Country. Something must be done, and soon.
It would seem that the government does not show much interest in this situation. They have let it get out of control to the point where a revolution is near and Police are forced to use violent and harsh action in order to calm the situation at hand. This is not right. Our Country is falling apart.
I do believe that education is a right; however, I believe that focus should be given to foundation phase education first before we, as a Country can even think about offering free tertiary education. We need to start at the bottom and work up. Currently we have pre-primary and primary schools that have no teachers, or have too many learners are squeezed into a classroom making it impossible to learn. This is where the main issue is and this needs to be addressed first in order for the future of our Country to be any better. Teachers' salaries need to be looked into – if we paid our Teachers better salaries they would want to stay in our Country and teach our children. Teaching (next to policing and medical) should be classed as one of the most important professions in our Country as these teachers hold the future of our Country in their hands through our children. If we do not look after them we will be losing them to other Countries, which already seems to be happening.
When it comes to Tertiary education, yes, free education should be offered to students who excel in school. This comes in the form of bursary's and funding. If you do well, you get rewarded. It's that simple. Nothing in life is free. You get what you want by putting in lots of time, effort and ultimately working extremely hard to get to where you want to be.
As a corporate, if it came with tax benefits and points on my BEE scorecard, I would investigate the option of sponsoring a student to go through University at my expense if I know that my money is going to be well spent. I.e. after 3 years of paying for this student, he/she walks out with a degree, finds a great job and then ultimately contributes positively towards our Country. This is the ideal situation.
There are however alternate options to tertiary education which are free and do come with a lot of available funding. These include skills development training, learnerships, short courses and on the job training. Through the SETA's, students can apply for learnerships and training which will give them the necessary skills to become successful. They may not be awarded a degree, but this form of education offers practical experience as well as theory and is free and readily available if you know where to look. Companies can benefit hugely on their BEE scorecard through enrolling learners onto a learnership. If the learner is unemployed, this is even better for the company as you get rewarded more points. I believe there is a tax rebate given if you enrol learners onto a learnership, however due to recent changes I may be mistaken. On top of that there are businesses who dedicate their time and effort to finding a suitable learnership for candidates, and whilst on training the learner receives a monthly stipend to assist him/her with getting to and from the training centre.
In our business we deal with training on a daily basis and the courses on offer are mostly accredited and extremely legit. The training companies that use my venue offer a variety of courses to suit all interests and they are extremely thorough offering a more personal training environment which you ultimately learn more from. They are highly professional and give you one on one attention if needed. If more corporates would invest in this type of training we would be producing higher qualified employees, increase motivation and ultimately create a better working environment for our own employees. If the government could increase funding in these areas not only will corporates invest in unemployed students offering them this type of training, but they will be getting a work ready generation who has the experience and the skills required to enter the working world.
At the B and E Conference Centre we can host training session for learnerships, short courses are skills development training and we believe that this form of education works as is proven by the many delegate who walk out of our doors holding their certificate of qualifications.
________________________________________________________________________________________________________________
RELATED ARTICLES
Zuma shows his hand – Pravin Gordhan must fall no matter the consequences
Don't Allow Desperation to Divide South Africa
Adult education, training and employment in South Africa
What will it take to make South Africa gatvol?
---
Related Articles:
WORLD ENVIRONMENT DAY - Are you making this mistake in your home?
0 comment(s)
---
Henley Business School is top in Southern Africa for Executive Education
0 comment(s)
---
UFS Research Impacts Food Security Across Borders
0 comment(s)
---
Medicinal Mushrooms
0 comment(s)
---
CloudSmiths Proudly Announces the Launch of their Salesforce Field Service Centre of Excellence in South Africa
0 comment(s)
---