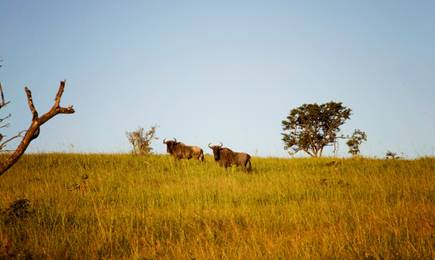 In line with this year's World Wildlife Day theme of 'Listen to the Young Voices', which aims to inspire youth across the globe to ensure the safety of endangered animals and to "address ongoing major threats to wildlife", Mpongo Game Reserve encourages young visitors to the property to spend time at the centre.
"Our vision is to help nurture capable, confident, curious children who are sensitive to environmental issues and who will learn to become active conservationists," says Martin Jansen van Rensburg, Hospitality General Manager at Mpongo Private Game Reserve. "Here they can explore outdoor spaces to find out how animals and plants live in different habitats, go for a walk in the reserve and hopefully meet Stretch, our hand-reared giraffe."
He continues: "Educating the young people of our country on the importance of conservation is crucial for the survival of our flora and fauna. According to the African Wildlife Foundation, the poaching rate of elephants, rhinos and other animals could lead to them becoming extinct 'in our lifetime'. Furthermore, the South African National Biodiversity Institute notes that 'one in four South African plant species is of conservation concern'. Our youth are the changemakers of tomorrow: therefore, we need to educate them on the importance of protecting nature for the future."
Home to an array of other wildlife, from elephants, zebras and buffalos to hippos, giraffes and antelope, the Reserve is protected by an electrified 2,4m high fence which is patrolled by game rangers and an Anti-Poaching Unit on vehicles or foot. Two standby veterinarians are always at hand.
In addition, Mpongo is strongly against the canned hunting of lions, and is a safe haven for six lionesses, two lions as well as five young cubs. ''All of our adult lions were rescued from potentially threatening locations and situations. We are incredibly proud to be able to play a role in preserving this vulnerable species. With the safety of our lions being a priority, we have five lion camps, all of which are electrified as per regulations,'' says Jansen van Rensburg.
Mpongo is also a birder's paradise. In association with the Endangered Wildlife Trust, it has re-introduced the Red-Billed Ox-Pecker, a bird species extinct in this part of the Eastern Cape since the early 1900s.
"The ethical use and protection of trees, wildlife, water and other resources are crucial to our reserve's aim of handling our environment with care. We also implement a controlled burning programme on old grass," adds Jansen van Rensburg.
"We believe that World Wildlife Day should be celebrated every day and hope that our conservation operations inspire others to follow our lead," concludes Jansen van Rensburg.
For more information on Premier Hotels & Resorts, visit www.premierhotels.co.za. For media enquiries, contact kirsten@eclipsepr.co.za
---
Related Articles:
Embrace AI to Remain Competitive in the Digital Business Environment
0 comment(s)
---
Restless Leg Syndrome
0 comment(s)
---
How Can I Wipe My Credit Clean?
0 comment(s)
---
The Smart Money is on Local Tech, Especially for 4IR
0 comment(s)
---
TUHF Secures R700 Million Nod from Standard Bank
0 comment(s)
---