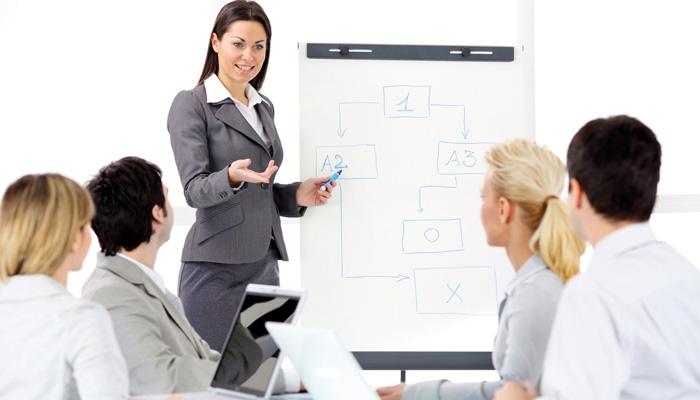 Is it important to train your Hiring Manager on how to conduct a successful interview and interview process?
Absolutely and without a doubt!
Your employees are the lifeblood of your organisation and training equips hiring managers to be able to select 'future leaders' as well as 'dedicated & committed' staff. An effective and sustainable match is found through proper preparation and focused questioning, thereby improving employee retention and ultimately company profit. Hiring success gives Hiring Managers the confidence that their selection will enhance their team and ultimately the organisation they work for. Employees hired form the building blocks of a company's success and growth. On the flip side of this, if your Hiring Managers do not get the appropriate training, they invariably will hire candidates who are known to them, that they feel they have an affinity towards / 'gel' with or their unemployed relatives and friends. This kind of recruiting method ends badly, at least 85% of the time. The process of finding, screening and hiring employees, therefore needs to be executed with precision and focused determination, with the goal of selecting the right person for the role within your team.
While a Hiring Manager, will be good at their job, it does not mean that they will automatically be good at interviewing. Interviewing is a complex skill and an important life skill to have when in a hiring managers' role. Developing a Hiring Managers interviewing skills does a lot for their own 'role success' & career too, as skills learnt can be transferred into other discussions within their chosen field of expertise, boosting client negotiations and relationships. Hiring Managers will be on top of their game in their chosen specialist area, so will have the Professional / Technical competencies covered, however they would not necessarily have the skill to be able to identify behavioural competencies needed for the role, to ensure the right 'fit' for the team and company and ultimately the best person for the job. They would also not necessarily prepare for the interview, in a sense, taking a 'scattergun' approach and hoping they hit something great! Skills required to secure the best possible talent for your company, have to be learnt and merged into the interview process for consideration as well. Let's face it… recruitment skills are not a necessary skill set, you'd think to be part of the Line Managers 'bag of tricks', but in order to run a successful, profitable team, you need to hire the correct person and the only way to do that is to have complete control over the interview process with confidence, knowing that you are doing everything in their power (as a Hiring Manager) to get the right calibre, perfect fit and valuable asset to their team.
It is a common misconception that 'anybody' can interview and hire a new employee. In truth, you don't have to be an Astrophysicist, but to maximise the positive results of hiring a new staff member, you will need a specific skill set and solid strategy in place. This Skill set & strategy needs to ensure that you are putting an interview process in place; that will allow you to discover if that interviewee can Professionally/technically, do the job as well as, behaviourally fit into the team and culture of the organisation. Conducting an effective selection and interview process, involves a few factors that just don't come naturally come to everyone, who has not been informed or trained to do them specifically. First you need to decide what kind of interview you would like to conduct, i.e. one-on-one, screening, telephonic, or panel interview. Telephonic interviews should only be used for screening purposes as to create a complete assessment of a candidate you need to observe body language (facial expressions, presentation & posture) Skype interviews will therefore be ideal when it is impossible to meet in person and preparations should be the same as a 'face-to-face' interview. A good quality internet connection on both sides is an addition to your checklist. If you have decided on the main interview in your process as being a 'one-on-one' or 'panel' interview, then you need to prepare for the interview by looking at a balanced mix of behavioural and professional / technical competencies, that are specific to the role being recruited for. Lastly, you need to create a structure for the interview & a scoring / ranking system. If this preparation is followed you will find your Hiring Managers feeling empowered and confident in their selection of future leaders in your organisation.
Employees are the life blood of any organisation, as profit generation starts with the recruitment process. Therefore, this process needs to be flawless, focussed and without reproach in a confident and legal manner. Some organisations, will have one or a few Recruitment & Selection specialists, assisting with the hiring process. and training the Hiring Managers to be equipped to running an effective and illuminating interview. Unfortunately, some don't for two reasons; namely:
Organisations as they have grown do not see the need for a Recruitment Manager to function separately to the HR Manager, so a little assistance may be needed from an outside source, and
HR Managers in larger companies may not have the skill sets themselves and/or the time to train Hiring Managers.
Hiring Managers' need to be made aware of employment laws governing the recruitment process and the repercussions of unlawful actions during the interview process. A strategy will also ensure that your recruitment process includes all the legal and ethical steps required to make a 'smart' and 'solid' hire. Your interview process needs to be planned, prepared and executed confidently, followed by candidate testing and candidate checks done, to complete the process. Organisations need to sell 'Interview Skills Training' to their Hiring Managers, without insulting them or making them feel ineffective., rather by empowering them with the knowledge of how they will benefit from acquiring this skill. Work smart, educate and train your hiring managers in what it takes to interview and hire the most suitable candidate. Your company growth and employee retention will benefit from it. Talent Management plays a critical role in driving organisational success – your interview and selection process is the first step in this critical process. This is the organisations next employee, team member, Brand advocate, ensuring your Hiring Managers are prepared and invested, will help master the hiring process and won't lose a prime candidate.
Global Talent Mine offer an 'Interview Skills Training for Hiring Managers' workshop, to assist you with empowering your Hiring Managers and getting them 'recruitment ready!', should your HR Department need the assistance.
UCT GSB has launched a Satellite Campus in Sandton.
The Informal Disciplinary Hearing – When is it Acceptable?
Keep up to date with industry related business tips, tricks and advice
---
Related Articles:
How Long Does Debt Counselling Take?
0 comment(s)
---
The Willard® BLUE Battery Promotion Has a Winner!
0 comment(s)
---
The Development of a Solar Photovoltaic Market in Ghana
0 comment(s)
---
Businesses to be Verified Based on New B-BBEE Code Amendments from 01 December
0 comment(s)
---
SAP SuccessFactors & Skillsoft
0 comment(s)
---