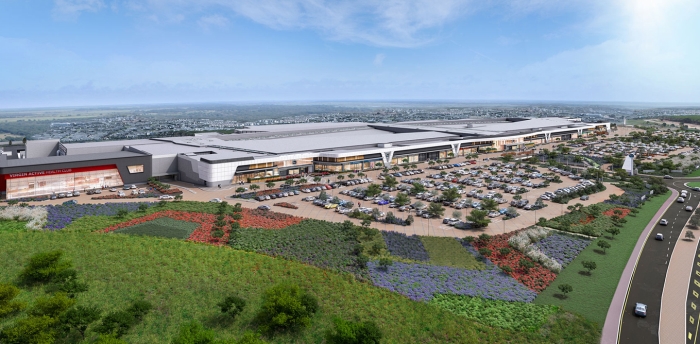 Shopping mall in Table Bay to open in September
Table Bay residents can expect a flagship mall to open on the corner of the R27 (West Coast Road) and Berkshire Boulevard. The Table Bay Mall will be the largest regional mall in the coastal hub of Big Bay, Bloubergstrand and West Beach Areas with more than 65 000 Sq m of retail space and the option to expand that to 90 000 Sq m.
The Table Bay Mall is said to be one of the last regional malls built in Cape Town as space constraints have become a determining factor in the West Coast corridor. The mall is expected to create more than 8 000 employment opportunities once it is up and running, having already created over 5 000 jobs since its inception.
The mall will become home to over 150 restaurants and shops, and include flagship stores such as H&M and Woolworths. The mall is being built in a time of drought in Cape Town, making the concern around water an ever increasing issue. Table Bay Mall however has been designed with a strict water and energy saving processes.
There will be over 1 300 outside parking bays with 2 000 undercover parking bays. The bays will be within walking distance of the three main lobbies of the mall. The mall has been designed with pedestrians in mind, with places in which to sit, relax and spend time.
With an open plan structure allowing natural light to flow through the mall, visitors will enjoy spending many hours in the building. Active guests can also expect there to be a Virgin Active Gym next to the mall with an incredible view of Table Bay and Lion's Head.
"With the current drought and future water issues facing the Western Cape, we have been extremely conscious of water and energy consumption during construction and we have implemented a number of measures to ensure that Table Bay Mall will remain sustainable going forward," says Janine Coleske, centre manager at Table Bay Mall.
____
Find out more about the Kenyan election that was overruled by the Supreme Court.
____
Find out what how the CBD is set to get, "affordable housing" with FWJK's new development.
____
Find out about the new partnership between Cape Town and New York that is said to boost tourism here.
---
Related Articles:
What are the Real Benefits of Submitting a PAIA Manual?
0 comment(s)
---
How Long Does Debt Counselling Take?
0 comment(s)
---
The Willard® BLUE Battery Promotion Has a Winner!
0 comment(s)
---
The Development of a Solar Photovoltaic Market in Ghana
0 comment(s)
---
Businesses to be Verified Based on New B-BBEE Code Amendments from 01 December
0 comment(s)
---