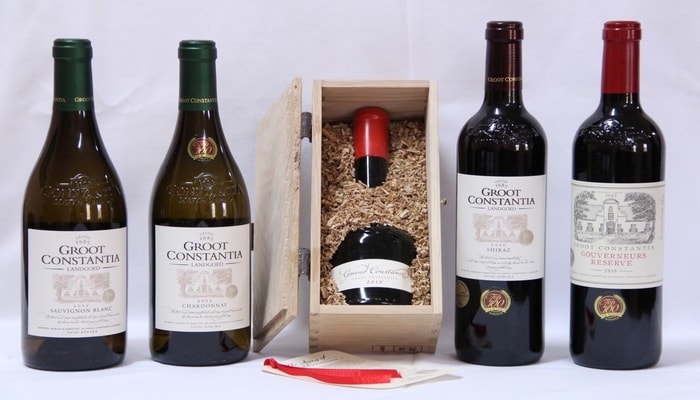 The historic wine estate takes home another award for the 3rd year running
Groot Constantia was the overall winner for the Area Winner Awards category which included Constantia, Hout Bay and Cape Point Terroir Districts – taking home all the awards including:
Top Cabernet Sauvignon (Groot Constantia Cabernet Sauvignon 2015)
Top Merlot (Groot Constantia Merlot 2014)
Top White Blend (Groot Constantia Gouverneurs Reserve White 2015)
Top Chardonnay (Groot Constantia Chardonnay 2016)
Top Pinotage (Groot Constantia Pinotage 2015)
Top Natural Sweet (Groot Constantia Grand Constance 2014)
The Novare SA Terroir Wine Awards honours wines which showcase South Africa's different wine areas.  The idea behind the awards is to discover wines that best represent the terroir in which they are produced.

Groot Constantia is blessed with diverse vineyards and the different terroir combinations that accommodate for the production of diverse award winning wines.
"We are truly delighted to win the national trophy for Top White Blend. The combination of a great team in the vineyard and unique terroir, with our minimum intervention approach to winemaking, has proved to be very successful at the Novare SA Terroir Awards," says Boela Gerber, Groot Constantia's winemaker.

Well-deserved accolades
Uninterrupted record of wine production since its inception in 1685, Groot Constantia is South Africa's oldest wine producing estate; 332 years and going strong.
Groot Constantia's Merlot, Chardonnay, Pinotage and Gouverneurs Reserve White blend all achieved Platinum awards and were the top South African wines in the 2017 South African Wine Index's (SAWi) Grand Wines Collection awards.  
Groot Constantia's Grand Constance was awarded a Gold Medal and amongst the Top 10 Muscats in the world at the The 17th annual Muscats du Monde wine competition in France.
____
Design thinking is fast becoming a popular approach in South African business.
____
Take a look at the 5 different approaches to leadership and how it changes the way you lead your team.
____
Read about Lyceum's celebrated staff member Benjamin van Rooyen
---
Related Articles:
Removing Vulnerability in Residential and Commercial Estate Management
0 comment(s)
---
What Employers Need to Know About Hearsay Evidence
0 comment(s)
---
Unpacking the BEE Management Tool
0 comment(s)
---
IBA Group Opened a Digital Twin Laboratory
0 comment(s)
---
Learning Through Experience
0 comment(s)
---