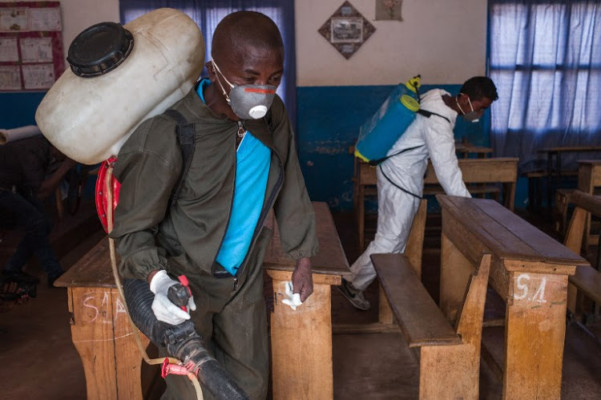 South Africa has been warned to be on high alert
The World Health Organisation (WHO) has identified South Africa as one of nine countries to prepare themselves for the 'Black Death' plague that has hit Madagascar.
So far, 124 people have passed away in Madagascar since 1 August, after being infected with the disease. According to reports, there are approximately 1200 suspected and confirmed cases, and with South Africa's travel and ties with Madagascar, the country has been warned to be on high alert.
'Black Death' (also known as the bubonic plague) is an infectious disease that is found in small mammals and their fleas. It can be contracted when you are bitten by an infected flea. The pneumonic plague, however, is a respiratory infection caused by bacteria.
The plague was one of the most devastating pandemics in human history, killing an estimated 75 to 200 million people in Eurasia, peaking in Europe during 1346 to 1353. The mortality rate of the plague brought the world population down from an estimated 450 million to 350-370 million in the 14th century.
Here are the symptoms of the plague:
Sudden onset of fever, chills, head and body aches, weakness, vomiting and nausea
Painful and inflamed lymph nodes can also appear during bubonic plague
Symptoms of the pneumonic form appear quickly after infection and include severe respiratory symptoms, such as shortness of breath and coughing, often with blood-tainted sputum.
Black death can be treated using antibiotics and treatment should be started as soon as possible to avoid any complications. The antibiotics used for treatment include tetracyclines (such as doxycycline), fluoroquinolones (such as ciprofloxacin) and aminoglycosides (including streptomycin and gentamycin).
For safety reasons, and following the warning given by WHO, avoid close contact with someone who is coughing and reduce time spent in crowded places to avoid the pneumonic plague. The bubonic plague can be prevented by not having physical contact with dead animals and by wearing insect repellent while in plague endemic areas.
____
Read the increases of food prices in South Africa.
____
Read what the budget speech means for South Africa.
____
Find out which cities are the most congested.
---
Related Articles:
What are the Real Benefits of Submitting a PAIA Manual?
0 comment(s)
---
How Long Does Debt Counselling Take?
0 comment(s)
---
The Willard® BLUE Battery Promotion Has a Winner!
0 comment(s)
---
The Development of a Solar Photovoltaic Market in Ghana
0 comment(s)
---
Businesses to be Verified Based on New B-BBEE Code Amendments from 01 December
0 comment(s)
---