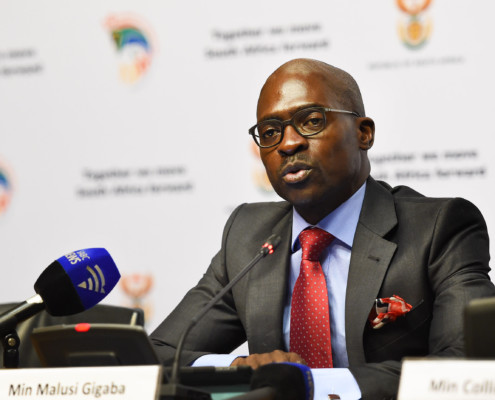 Things are looking bleak for the country's finance
Delivering his maiden budget speech on Tuesday, 24 October 2017, Finance Minister Malusi Gigaba announced the country's biggest tax revenue shortfall since 2009. To make matters worse, National Treasury also reviewed growth for 2017 downwards from 1.3% to 0.7%.
While Gigaba was busy with the budget speech, the rand fell by 12 cents to the dollar, sliding down to R13.9941. Then at 3.15pm, the rand reached its lowest level before it levelling to R13.9152.
Minister Gigaba's maiden budget performance left no cause for celebration in parliament on Wednesday. The biggest disappointment of the speech was the inability to present new initiatives or measures to inspire growth or cut government costs. The mini-budget displayed the government's dilemmas, but no mention was made of a solution to where the money will come from, except hints at possible tax increases.
As there has been a mention of rise in taxes, South Africans should definitely prepare themselves for increases come February 2018. What was mentioned is that the current environment has no space for an increase in taxes.
There is an attempt at reassurance with statements like "a presidential task team will develop proposals to restore fiscal sustainability" but the usual rhetoric of radical economic transformation, contributions to transformation and inclusive growth, as well as a redistributive and progressive budget were also highlighted in the speech.
The key points of Finance Minister Gigaba's maiden budget speech:
South Africans may be asked to pay more taxes from next year but no details were given.
The growth of the economy has slowed and the February 2018 projection of 1.3% has been decreased to 0.7%. However, the economy is expected to recover slowly, reaching 1.9% in 2020.
The combined budget deficit for 2017/18 is expected to be 4.3% of GDP, compared with a 2017 budget estimate of 3.1%. The main budget shortage, which determines the government's net borrowing requirement, will be 4.7% of GDP this year.
Gross national debt is predicted to reach over 60% of GDP by 2022, with the costs of debt service reaching 15% of main budget revenue by 2020/21. The debt service costs are the biggest single item on the budget, and at 11% per year, the fastest rising category.
The government's sum of guarantees on SOE lending has risen to R445 billion. Unprofitable state firms are putting huge pressure on the fiscus. Profitability fell from 7.5% in 2011/12 to just 0.2% in 2016/17.
State-owned entities have put pressure on the government, presenting a major fiscal risk to the economy. But this week, two of these entities took center stage; South African Airways and the Post Office. Both companies will receive R8.5 billion in government funding, putting the country's expenditure at risk of a R3.9 billion breach.
The speech also includes several expenditure priorities for the medium-term expenditure framework period:
Job creation and small business development
Youth development
Infrastructure expansion and maintenance
Land reform, smallholder farmer and agriculture development
Comprehensive social security, education and skills
An integrated plan to fight crime; and
Advancing the national interest in the Southern African Development Community throughout Africa, and through participation in the BRICS (Brazil, Russia, India, China and South Africa) bloc and the Indian Ocean Rim Association.
Silence still surrounds the big projects like the nuclear energy new build plan or the national insurance scheme. Statements will either be made later, or have been put on hold at the moment.
____
Find out which cities are most congested.
____
Read why you could be refunded if you a new Volkswagen driver.
____
Read about the man who flew over Johannesburg using a chair and balloons.
---
Related Articles:
The Africa Continental Free Trade Area Protocol on Investment: A Prickly Pear for SADC and other Regional Economic Communities
0 comment(s)
---
In a Post Covid-World, the Africa Continental Free Trade Area could not come soon enough
0 comment(s)
---
How the Environment Affects Your Health, and What You can do About It
0 comment(s)
---
Resilience is Critical for Business Success in Our Post-COVID-19 Future
0 comment(s)
---
Are You Ready for the 4IR?
0 comment(s)
---