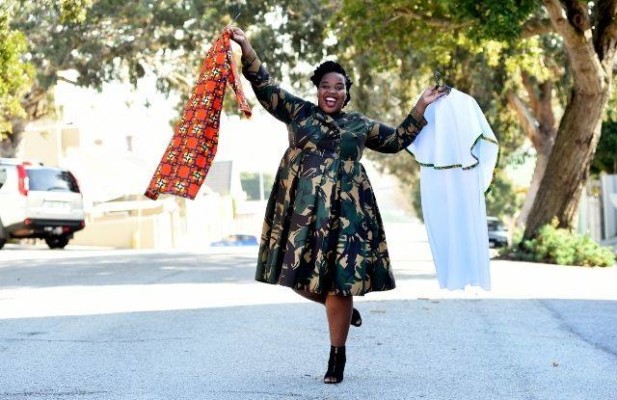 From poverty to the international runway
"I'm probably from one of the poorest families in Port Elizabeth," says Asanda Mali, who came from the humblest of situations.
Mali was raised by a general worker mother and an unemployed father who did some clothing alterations for people just to bring in a few pennies. Born in New Brighton and growing up in Qaqawuil Street, she lost her mother during her teen years.
After the passing of her mother, Mali's father took up a job as a gardener and eventually asked the children to get jobs because he wasn't able to provide for them as a single parent.
Lack of finances hindered Mali's studies and she was unable to complete her "N" level in mechanical engineering. For her to fit in at college, she realised that she had to make her own clothing because shopping was not an option.
"My dad used to do alterations for people and I used to play around on his machine but I didn't know how to make patterns or make clothes. I went to my aunt who showed me how to make a skirt and showed me her technique, which I still use today," says Mali.
"That day I made and completed my first skirt," she said. After losing her job in May 2013, Mali wanted to do fashion full-time and gave herself a deadline of two years to make things work.
"In November that year, I had the opportunity to style a celebrity and Buhlebendalo from The Soil saw and liked my work – without me ever approaching her – and I began styling her," Mali said.
She has gone on to style Port Elizabeth-born jazz star Nomfundo Xaluva, Afro-Soul singer Beritta, Memoirs of a Born Free author Maliaka Mahlatsi, television personality Jerry Rantseli and recently Miss South Africa finalist Michaela Oosthuizen, from Port Elizabeth.
But things just got bigger.
The Mal'stones designer scored an invite to Dubai's premier fashion showcasing platform – Runway Dubai. One major problem arose: a R100 000 clearance fee to promote her clothing brand. The pricey invitation has led to #Malstones'goes2Dubai, a platform for people to show their support and give a donation to her journey.
The female designer started off with one machine and now has a staff complement of three women and a shop in Richmond Hill. She believes her goal of steering her business to an international level is on the right path.
The young designer is hosting the #Malstones'goes2Dubai fundraising social as a benefit event for the brand. The benefit event is a way of rallying support and creating a thrill around the online crowdfunding campaign.
This Saturday, 28 October 2017, Port Elizabeth's best musicians, promoters and DJs have rendered their services free of charge as a contribution towards her venture. All proceeds will go towards the #Malstones'goes2Dubai campaign. The event will be hosted at the Roof Garden Bar located in the heart of the city.
So Mzansi, let's jol for a worthy cause.
____
Read what the budget speech means for South Africa.
____
Find out what 'Day Zero' means for Cape Town.
____
Read about the shopping craze called Black Friday.
---
Related Articles:
The Africa Continental Free Trade Area Protocol on Investment: A Prickly Pear for SADC and other Regional Economic Communities
0 comment(s)
---
In a Post Covid-World, the Africa Continental Free Trade Area could not come soon enough
0 comment(s)
---
How the Environment Affects Your Health, and What You can do About It
0 comment(s)
---
Resilience is Critical for Business Success in Our Post-COVID-19 Future
0 comment(s)
---
Are You Ready for the 4IR?
0 comment(s)
---