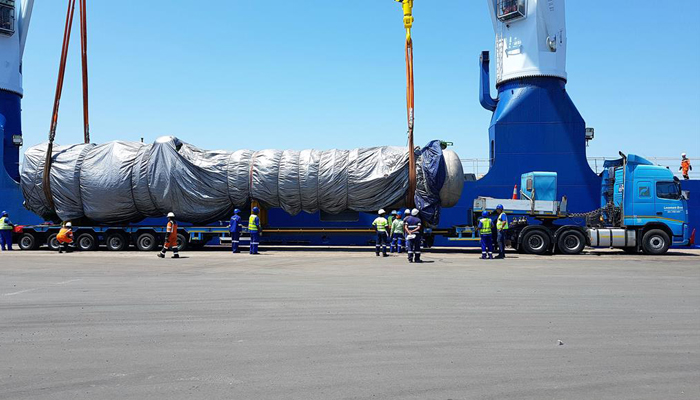 Rohlig-Grindrod heads up an exciting venture
A multiple-effect evaporator, as defined in chemical engineering, is an apparatus for efficiently using the heat from steam to evaporate water. In a multiple-effect evaporator, water is boiled in a sequence of vessels, each held at a lower pressure than the last.
Because the boiling temperature of water decreases as pressure decreases, the vapor boiled off in one vessel can be used to heat the next, and only the first vessel (at the highest pressure) requires an external source of heat. While in theory, evaporators may be built with an arbitrarily large number of stages, evaporators with more than four stages are rarely practical except in systems where the liquor is the desired product such as in chemical recovery systems where up to seven effects are used.
Evaporation plants are used as a thermal separation technology, for the concentration or separation of liquid solutions, suspensions and emulsions.


The operating costs of an evaporation plant are largely determined by the energy consumption. Under steady-state conditions there must be a balance between the energy  entering and leaving the system. The energy consumption of the system can be tailored to meet the customer's individual requirements by intelligent thermal configurations of the evaporation plant.
Rohlig-Grindrod handled the complex project management of an exciting venture, to build an Evaporator Plant at a mill based in Nelspruit, South Africa.

The Evaporator was brought into South Africa in five separate shipments, with the last shipment being break bulk cargo, made up of 18 massive pieces, weighing a total of 439.43 tons and with a volume of 2836.509 cbm. The shipment was discharged on Saturday the 24 February 2018 at Richard's Bay Harbour and delivered according to client specifications.
____
Types Of Drug Addiction in South Africa
____
Check the new smart farming!
____
5 reasons you should be leasing your technology equipment
---
Related Articles:
The Fourth Industrial Revolution
0 comment(s)
---
The Sun Always Shines on the Sonique Side of Life!
0 comment(s)
---
ContinuitySA Partnership Programme Officially Launches
0 comment(s)
---
Intuition as a Leadership Tool – It's Like Having the World Wide Web in Your Head
0 comment(s)
---
Do You Really Know How Much It Costs to Manage Your Company Travel Manually?
0 comment(s)
---