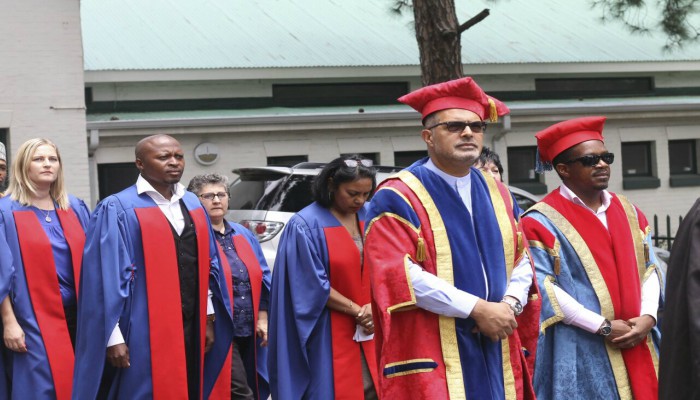 Da Vinci Launches Academic Year with a Song and a Drum
The Da Vinci Institute for Technology Management is a School of Managerial Leadership contributing towards socio-economic development and transformation.
The launch of the academic year
The launch of the 2018 academic year takes place on Tuesday 27 March 2018 at The Institute's campus, situated in the peaceful suburb of Modderfontein, Johannesburg.
The official Academic Opening serves as a meaningful occasion led by a traditional academic procession. The procession will consist of Da Vinci Council and Da Vinci Faculty members who will process around The Institute's campus. Students will participate in the event to celebrate learning at Da Vinci.
Students, alumni, and guests in attendance will witness the hoisting of four flags. The one flag signifies the relevance of The Da Vinci Institute in relation to its dream of contributing to the development of a sustainable society. The second flag signifies the importance of the tt100 Business Innovation Awards Programme, which has been recognising companies for their business prowess in the Management of Technology, Innovation, People, Systems, Research and Sustainability.
The third flag signifies that of the Purple Cow, which is popularised by author and marketer Seth Godin. The Purple Cow serves as a reminder to practice remarkable behaviour every day. The fourth and final flag is that of the South African flag and signifies the love of our beloved country.
The entertainment for the day will be Gauteng Opera, an all-round performing arts and entertainment company. The event will close with Drumtribe, an interactive drumming team, who will lead staff and students to celebrate through African Drumming.
About Da Vinci Institute
The Institute's purpose is to cultivate managerial leaders through the core principles of business-driven action learning by offering students a personalised journey of self-discovery and co-creation. The Da Vinci Institute offers Higher Certificates, a Bachelors Degree, a Masters and a Doctoral Programme. Da Vinci supports has an innovative managerial leadership approach to enable business leaders to build alignment, agility, and engagement.
Business Essentials is Africa's premium networking and business directory.
Read more from our Press Room:
___
___
___
Support for public training institutions
---
Related Articles:
How Long Does Debt Counselling Take?
0 comment(s)
---
The Willard® BLUE Battery Promotion Has a Winner!
0 comment(s)
---
The Development of a Solar Photovoltaic Market in Ghana
0 comment(s)
---
Businesses to be Verified Based on New B-BBEE Code Amendments from 01 December
0 comment(s)
---
SAP SuccessFactors & Skillsoft
0 comment(s)
---