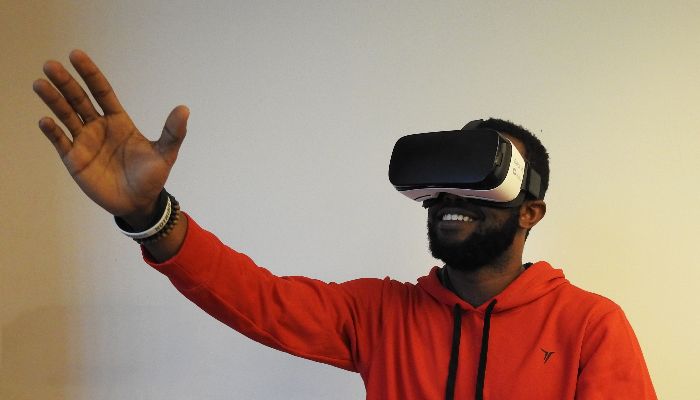 What sets VR/AR spaces apart from other co-working spaces?
Combine a tech mega trend and a revolutionary way of working and what do you get? A VR/AR co-working space. These 'babies' have been popping up in the US since 2016. They've been popping up particularly in Los Angeles and Silicon Valley, in Amsterdam and London. They are becoming the sandbox VR developers choose to play and grow in.
In New York alone, the New York City Economic Development Corporation (NYCEDC) allocated $6 million in funding to develop a VR/AR lab to further advancement in this industry. YouTube joined the fray by opening their own 'Youtube Space' providing events, workshops and production resources at no cost to 'YouTube Creators'.
More than just a place to avail themselves of clever VR and AR technology and equipment, these popular hybrid workspaces also serve as incubator programs, training and education facilities and centres of conscious collaboration between developers.
What sets these spaces apart from other co-working spaces?
While they share certain commonalities with innovative workspace brands such as SPACES (owned and operated by 'Workplace as a Service' giant, IWG PLC), which focuses on big open spaces, aesthetics and fostering inspiring communities where techies and creatives can work and share knowledge, these VR/AR spaces have a few extra necessities.
Iron-clad security, state-of-the-art VR/AR hardware, VR event spaces, green screen studios, mixed reality studios and simulation rooms are standard issue in most. Events hosted range from VR music shows, haunted houses, dancing and games to updates from industry leaders, demos and films – also in VR.
The benefit for developers booking workspaces here, centre mainly around cross-pollination and learning, (more) affordable access to expensive technology, community support and access to the big 'ones' like Oculus, YouTube and Google who offer their support and are watching closely as the incubator programs produce and nurture future talent.
VR/AR technology is not at the point where developers 'can sell the farm' just yet, though, as adoption and the means to fully and affordably integrate VR and specifically AR solutions, still have to catch up to how popular the trend has become.
That, coupled with the fact that VR leaders like Oculus believe that AR (and MR) are actually the solution to VR's inability to immerse users in the experience while wearing the big, bulky equipment required for VR.


VR/AR in SA
This hasn't stopped the trend from booming in SA and worldwide though. A quick search for 'VR South Africa' results in two pages worth of companies mainly in Cape Town and Johannesburg specialising in VR, South Africa's first on-demand virtual reality arcade called "Virtual World" and many peddling VR headsets.
And with application in areas such as education and skills training which are relevant to the South African socio-economic landscape, the technology is essential and relevant.
The cost of development just puts it out of reach for its everyday application. But there are ways. Llew Claassen and Vinny Lingham of VC firm, Newtown Partners, recently launched a crypto-crowdfunding drive to raise $1 million for their AR game, Augmentors. They raised close to half of the total within the first day.
"Though VR/AR workspaces are not a common feature in SA yet, due to high costs, the collaboration we foster in our 'innovation spaces', is increasingly central to driving innovation forward.
Technology has enabled many forms of communication, but there's still high value in face-to-face communication and the workspaces who understand the human factor, ensure that there are interactive, sharable areas. The last 10 years marked a tremendous injection of technologies into innovation spaces, literally re-wiring how, where and when people connect and communicate," says Country Manager of SPACES South Africa.
Contact Regus for more information.

Business Essentials is Africa's premium networking and business directory.
Read more from our Press Room:
___
Life-Long Learning
___
Restoration of the Old Granary
___
Seeff Southern Suburbs Brings you this 4 Bedroom Townhouse
---
Related Articles:
The Africa Continental Free Trade Area Protocol on Investment: A Prickly Pear for SADC and other Regional Economic Communities
0 comment(s)
---
In a Post Covid-World, the Africa Continental Free Trade Area could not come soon enough
0 comment(s)
---
How the Environment Affects Your Health, and What You can do About It
0 comment(s)
---
Resilience is Critical for Business Success in Our Post-COVID-19 Future
0 comment(s)
---
Are You Ready for the 4IR?
0 comment(s)
---