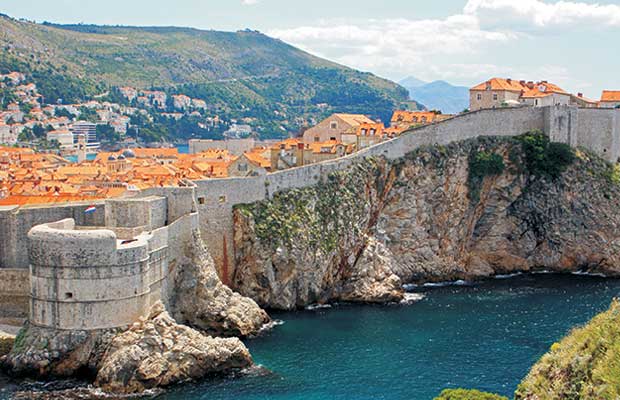 XL Bay Travel share some valuable tips when visiting Dubrovnik
Dubrovnik is a beautiful historical old town with pebble beaches, tiny islands in the vicinity and of course many street cafés, restaurants, bars and shops to explore.
Here are the top five things to do for first time travellers to Dubrovnik, Croatia:
The City Walls of Dubrovnik
Touring the city walls of Dubrovnik is an absolute must do for all tourists. These walls encircle the entire old town of Dubrovnik which stretches over 2 kilometres long and consist of 17 towers, several shops, restaurants, museums and even a church within the walls.
Tips for visiting the city walls:
• To avoid the maximum crowds (and the heat), do this as early as possible
• Bring water
• Wear sunscreen and a hat
• Don't forget your camera
The cost is approximate R300.
The Cable Car
The cable car is situated just outside the city walls. This cable car will take you from downtown up 778m to Mount Srd in less than 5 minutes. At the top of Mount Srd you will have a spectacular view of Dubrovnik and you can even have a coffee or lunch at the top at the bistro.
The cost for the cable car ride is approximate R280.
Game of Thrones Tour
For the fans of the popular HBO series, the walking tour of Game of Thrones will take you to several film locations where you will have access to behind the scenes footage and have the opportunity to follow the footsteps of the show's characters.
The cost of the walking Game of Thrones tour is approximate R700 for three hours.
Beaches
While many people visit Croatia for cultural and historical reasons, don't forget that Croatia is situated right at the Adriatic. The beaches in Dubrovnik will blow you away with its seductive sandy shores, pebbly coves and sun-fried rocks.
Kr Kr National Park
One of the must do tours while in Croatia is to visit the Kr Kr National Park (pronounced as Kirrr-ka). This is probably one of the most difficult words you will use when in Croatia, however you will master the pronunciation in no time as you won't be able to stop talking about it. This National Park is known for a series of 7 waterfalls. You might be wondering what is so wonderful about this waterfall, or once you've seen a waterfall, you've seen it all. However, these waterfalls are without a doubt one of the most iconic features of the region overall. You can view the waterfall from various platforms, with paths and bridges around the park, which all lead to the falls. Bear in mind that you will be doing a lot of hiking as you explore the exquisite fauna and flora before you get to take a dip in the water.
The cost of a transfer from Dubrovnik to Kr Kr National Park can vary as it's a 3-hour scenic ride. The entrance fee to the park depending which time of the year you go is approximate R200.
To book your trip to Croatia, visit http://xlbayleisure.co.za
Written by Zanél Potgieter
Business Essentials is Africa's premium networking and business directory.
Read more from our Press Room:
___
South Africans Are Preparing to Tighten Their Belts After Fuel Price Spike
___
Difference Between Corporate Gifts and Promotional Gifts
___
What Homeowners Need to Know About Gas Appliances and Their Insurance
---
Related Articles:
ContinuitySA Launches Cloud-based Backup and Replication Solution for SMEs
0 comment(s)
---
VeriCred-Growing Together
0 comment(s)
---
Feeding Company Culture Through a Global Crisis
0 comment(s)
---
What's the Quality of Your Ethics Strategy?
0 comment(s)
---
What COVID-19 means for IT
0 comment(s)
---