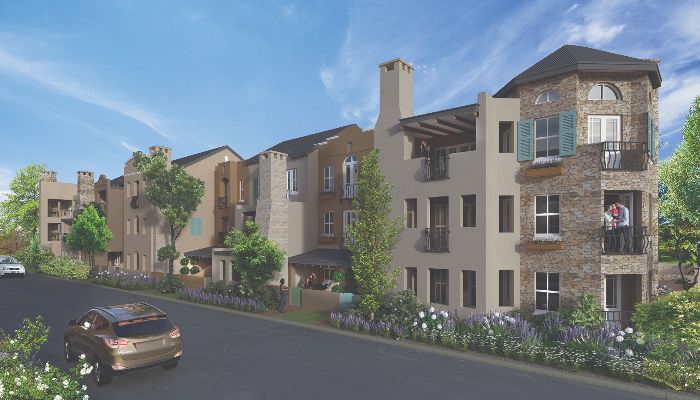 Sibella Square offers an affordable, sophisticated lifestyle in Stellenbosch
Nooitgedacht Village has announced the launch of a brand-new development phase, Sibella Square. Set in a quaint, Italian-style courtyard, Sibella Square offers elegant 1, 2 and 3 bedroom apartments. Choose from a range of layout and customisable finishing options, together with convenient basement parking.
Affectionately named after the former owner of Nooitgeadcht, Sibella Passman, Sibella Square is an affordable yet sophisticated lifestyle option. It has the benefit of being set within the safety and pristine beauty of Nooitgedacht Village. Units facing inwards, reminiscent of the 'parameter block concept' of continental Europe, will enjoy the vibrant atmosphere of the courtyard. Those on the outer perimeter will offer covetable views of the Stellenbosch Winelands countryside and majestic mountain ranges.
"Sibella Square is an important thread in the tapestry of Nooitgedacht Village, welcoming people from different phases in life. Each generation contributes to the unique vitality of the Village. A lot of thought has gone into conceptualising and designing each phase of the village. We are thrilled with the value that we are able to offer residents and investors in Sibella Square", said Werner Wirth, Managing Director of Nooitgedacht Village.
Nooitgedacht Village Sibella Square life
Sibella Square holds a unique location within the village, adjacent to what will be the proverbial heartbeat of the community – the Village Piazza. This is where the fragrance of brewing coffee and freshly baked bread from local artisans will entice residents to wander down cobblestone streets and gather with a tight-knit community. The vibrancy of the piazza will be complemented by exciting retail components such as boutique clothing shops and an art gallery, embodying Nooitgedacht's vision of reclaiming the old-world values of sustainable living and emphasising the importance of a local community. Sibella Square shares in the pulse of the Piazza while also offering a distinct sense of safety and tranquillity.
Contact Nooitgedacht sales office at 087 050 1649 or email sales@nooitestate.co.za for any enquiries.
Business Essentials is Africa's premium networking and business directory.
Read more from our Press Room:
___
Workplace Training: Why your Organisation Should Consider a Tailored LMS
___
Secure and Stylish: Home Is Where The Heart Is
___
Elections 2019: What You Need To Know About Registration
---
Related Articles:
The Africa Continental Free Trade Area Protocol on Investment: A Prickly Pear for SADC and other Regional Economic Communities
0 comment(s)
---
In a Post Covid-World, the Africa Continental Free Trade Area could not come soon enough
0 comment(s)
---
How the Environment Affects Your Health, and What You can do About It
0 comment(s)
---
Resilience is Critical for Business Success in Our Post-COVID-19 Future
0 comment(s)
---
Are You Ready for the 4IR?
0 comment(s)
---