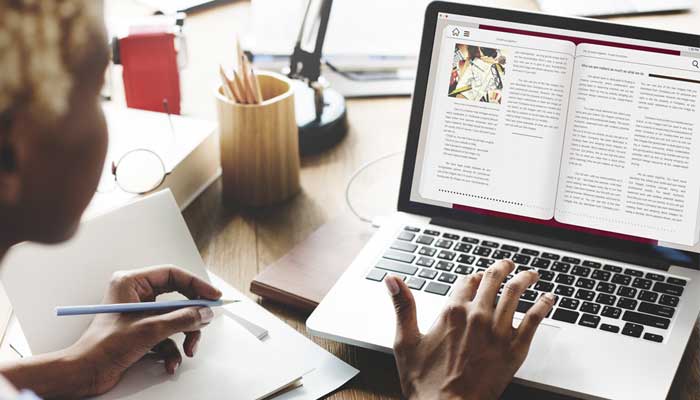 Having a tailored LMS (Learning Management System) in place can make all the difference
Upskilling staff in the workplace has become an essential necessity for any organisation seeking to stay competitive and attain growth in the 21st century.
However, training in the modern workplace requires an effective medium of instruction — one that allows staff to progress at their own pace, while ensuring that new skills are acquired sufficiently.
One solution for this involves using something called a 'Learning Management System', or 'LMS', which taps the advantages of both electronic and mobile learning.
An LMS helps to automate the management and tracking of your learners' training. It also serves as a platform for housing your e-learning content while ensuring that employees are taking the training by displaying, for instance, how much time someone spent in a lesson.
It's akin to an online classroom interface and can be used to assign a person to one or more training modules and then track, support and assess the learning process.
An LMS is further able to host and play most media types: from videos to PDFs and SCORM/xApi files. The SCORM/xApi file format is particularly important as it can include interactive learning modules that package various media types into a single object.
The rise of LMS software and all its features comes amid the changing nature of training.
Companies can no longer afford to group people together in a training room for days on end. Learning needs to be made available in realtime and on-demand, and the LMS, via mobile devices, is also able to deliver training wherever and whenever.
Weighing up LMS options
Data from the Allied Market Research indicates that the global LMS market was valued at $4.3bn (R51bn) in 2016, and is estimated to reach $15.3bn (R181bn) by 2023, growing at a Compound Annual Growth Rate (CAGR) of 20% from 2017 to 2023.
As a result, choice in the market is growing and varied, from paid software solutions to open source tools that can be downloaded and used for free.
But when considering an LMS solution, there are broadly three options that an organisation should consider.
The first is buying an LMS. There are many LMS offerings on the market and buying one gives you the benefit of skinning it in your own corporate colours. The price of the software will depend on the number of user licenses you need.
The second option involves consulting a provider to skin and set up an open source LMS for you. This can be among the cheapest options as the only fee is for the set up and skinning — there is no cost per user.
The third option is going the 'Software as a Service' (SaaS) route, which is the quickest and easiest option. The drawback here, though, is that you pay for each time a learner within your organisation starts a new course.
Going open source with Moodle
A key consideration, when choosing to implement an LMS system, is whether it's worth it to opt for an open source solution.
One such solution is 'Moodle', which is the world's most widely used open source LMS software with 68 million users and 55 000 Moodle sites deployed worldwide.
The Moodle project is financially supported by a network of over 80 Moodle partner service companies worldwide. The vanilla version of the software is free of charge, and there are no restrictions in terms of function or number of users.
Moodle is also an LMS leader in mobile delivery. Apps are available for iOS, Android and Windows devices and they allow for off-lining, which helps users to access their material without data.
Different companies will naturally have different needs. But Moodle is an incredibly versatile application with hundreds of different plugins available. Customising Moodle to fit your needs will also ensure greater adoption and easy use of the product.
It's advisable then to get an experienced 'Moodler' to install and configure your LMS to fit your needs. This is because customising Moodle and the apps, in terms of your needs and template designs, requires a certain technical ability.
For example, we as Media Works are able to install, customise and skin the Moodle platform to your needs, including changes to the various apps and registering them on the relevant app stores. The hosting of the Moodle LMS can be done on your servers or on a Media Works' cloud offering.
So, whether it's an open source system like Moodle or even paid options, LMS software is here to stay and something you should consider when looking for a digital tool to take care of your employees' online learning needs.
By Dennis Lamberti, Development Director of Media Works
Business Essentials is Africa's premium networking and business directory.
Read more from our Press Room:
___
The Choices Social Investors Make
___
The Difference Between Generic and Original Medication
___
Aucor and De Beers break new ground in Limpopo
---
Related Articles:
The Africa Continental Free Trade Area Protocol on Investment: A Prickly Pear for SADC and other Regional Economic Communities
0 comment(s)
---
In a Post Covid-World, the Africa Continental Free Trade Area could not come soon enough
0 comment(s)
---
How the Environment Affects Your Health, and What You can do About It
0 comment(s)
---
Resilience is Critical for Business Success in Our Post-COVID-19 Future
0 comment(s)
---
Are You Ready for the 4IR?
0 comment(s)
---