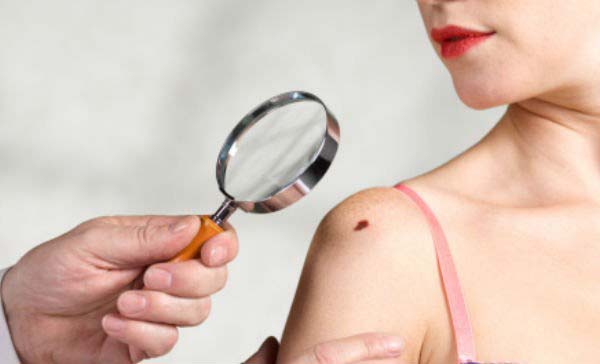 Monitoring your moles could save your life
The deadliest form of skin cancer, melanoma, is the result of skin cells that mutated from once being healthy to those that now multiply to form cancerous growths. The shift, which can happen rapidly, is often due to damage caused by unprotected exposure to ultraviolet radiation, be it from the sun or a tanning bed.
While many melanomas can resemble moles, some can actually develop from them which is why it's important to always keep an eye on them.
Learn your ABCDEs
After Australia, South Africa has the world's second highest incidence of melanoma so it's vitally important to know whether you're dealing with a harmless mole or a potentially deadly melanoma.
The best way to know for sure is to have a medical professional like your doctor or dermatologist examine it. Still, there's an 'ABCDE' rule to help alert you to anything suspicious that can be verified by an expert, which is as follows:
Asymmetry: Generally, melanomas won't be perfectly round or be mirror image of itself should you draw a line through it.
Border: Look at your mole's edges. If they're jagged or blurry-looking it could be a melanoma.
Colour: Low risk moles are usually all one colour. If it's mottled, however, it could be something more dangerous.
Diameter: If your mole is larger than 6cm across show it to your doctor and be sure to monitor it. Most melanomas tend to be on the larger side, but this doesn't mean 'small is harmless'. Melanomas also start small then grow, often rapidly.
Evolving: Moles don't really change. If yours is morphing in any way, be it shape, size or shade, it's time to show it to a pro. Mole assessment is offered at all Skin and Health Renewal branches across South Africa.
Make a mole map
If your family has a history of skin cancer or you have several moles, it would be a good idea to get a mole map. This involves taking photos of your entire body to create a baseline record for all your existing 'spots'. Then, each mole is photographed up close.
This acts as the baseline for future 'photo shoots' as the years go by so you can keep an eye on moles that exist as well as anything new, should they crop up.
While this sounds like something you could do at home, know that the cameras used in the mole mapping process are highly specialised and can pick up things that won't be visible to the human eye so this is most definitely a case of 'leave it to the pros'.
Bye bye beauty spot
A mole can be a great character-adding trait but not everyone feels that way. If you're in the North West or Western Cape Provinces and have a mole you'd rather remove, make an appointment for mole removal <https://www.skinrenewal.co.za/surgical-mole-removal> with one of the highly-skilled doctors at Skin Renewal.
You have three options, the first being a shave biopsy which works best for very small moles. If your mole is on the larger side, you may require a punch excision. This involves the use of a cutter-like device, but don't worry, every mole removal method will involve a topical anesthetic. Another option for larger moles is a surgical incision. Your doctor will be able to suggest the best method after taking a look at the size and positioning of your mole.
To find out more about more about mole removal visit Skin Renewal on www.skinrenewal.co.za or call 0861 SKIN SA (7546 72).
Business Essentials is Africa's premium networking and business directory.
Read more from our Press Room:
___
Imperial Logistics Enjoys Sweet Success in Premium Chocolate Contract
___
Stay Warm This Winter With Our Indulgent Winter Warmers
___
Leveraging Incentive Programmes for Small-scale Suppliers to Enable Job Creation
---
Related Articles:
Coal-driven Power Train is Running Out of Steam
0 comment(s)
---
How to Avoid Overspending this Festive Season
0 comment(s)
---
DHL Expands Africa eShop Online Shopping Application to 34 Countries Across Sub Saharan Africa
0 comment(s)
---
LFP Group Applauds President's Call for Private Sector to Upscale its B-BBEE Agenda
0 comment(s)
---
The Evolution of Marketing - What will the Future Look Like?
0 comment(s)
---