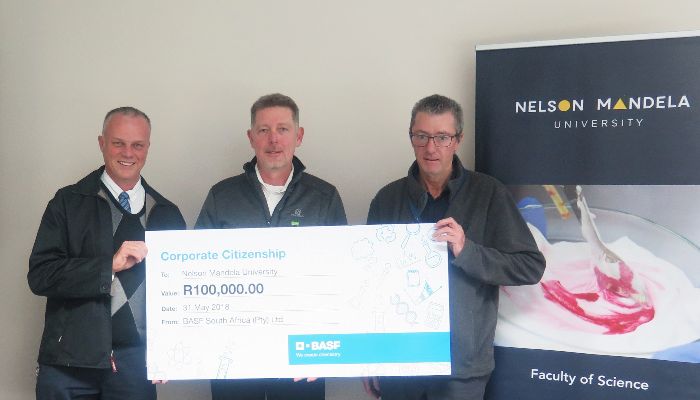 The global chemical company, BASF, recently made a donation to the Nelson Mandela University (NMU) towards the upgrading of Wonderware SCADA, a Process Logic Controller (PLC) system. The system will be used to train the next generation of Chemical Process Technicians.
"It is my honor to be here today on behalf of BASF South Africa to sponsor a project that will not only benefit our company's supply chain but also contribute to the upliftment of skills development in our country," said Paul Allday, Port Elizabeth Site Director of BASF's Mobile Emissions Catalysts Division.
The upgrading of the existing Wonderware SCADA system will enable students to work on real-time distributed control systems from where the students can operate the process controls on various equipment, perform cold start-ups and emergency shutdowns. Upon completion of this course, the skills gained from this hands-on training will ensure that these students are employable in the automotive industry.

Some of the Chemical Process Technology third year students: (left) Anathi Nongayiyana, Dr Shawn Gouws, Sithembiso Mbane, Paul Allday, Dr Gary Dugmore and Ludwe Ngodwana

Dr. Shawn Gouws (right) showing Paul Allday the new equipment at the InnoVenton Centre
Business Essentials is Africa's premium networking and business directory.
Read more from our Press Room:
___
Petrol Increase and Tourism – How Much Trouble are We in?
___
Inter-Generational Partnership For Economic Growth
___
WATCH: Treatment Options for Substance Abuse
---
Related Articles:
The Fourth Industrial Revolution
0 comment(s)
---
The Sun Always Shines on the Sonique Side of Life!
0 comment(s)
---
ContinuitySA Partnership Programme Officially Launches
0 comment(s)
---
Intuition as a Leadership Tool – It's Like Having the World Wide Web in Your Head
0 comment(s)
---
Do You Really Know How Much It Costs to Manage Your Company Travel Manually?
0 comment(s)
---