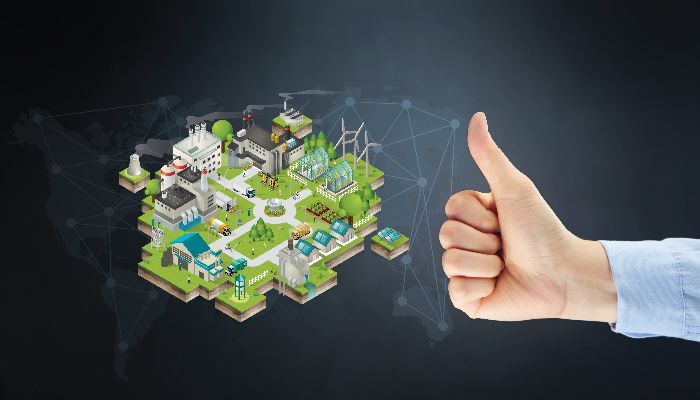 What is Lean to Green and Lean Manufacturing?
Lean to green employs systematic methods to reduce wastes and any non-value adding activities without compromising on the type of product that your customer wants on time. Lean manufacturing is not limited to just mass production but also extends to service-oriented offices, agencies and businesses.
Even without intending to reduce your impact on the environment, lean manufacturing techniques can unintentionally benefit the environment. Pollution and environmental wastes are not the main focal points hence they cannot be maximized in the normal scheme of things.
An efficient manufacturing process is the essence of sustainability but unfortunately, there are two theoretically wrong ways of thinking which are:
Old Thinking
Most old companies have always assumed that adopting any eco-friendly processes in their manufacturing process will increase their operating costs.
New Thinking
Green practices like recycling, reusing and reducing your production waste can reduce their operating costs as they make a company a more efficient and keep it running optimally.
Records indicate that companies that are incorporating any lean practices into their manufacturing processes are by default becoming a lot more green.
Here are 6 Lean Manufacturing Principles and How They Boost Sustainability:
1. Fast Delivery and Less Time
Manufacturers generally have long production cycles which lead to a huge cost of delay and agility. This may be caused due to the complexity of the products as well as the liability involved, particularly in the case of aerospace or auto manufacturers. Some of it may be due to a lack of organizational focus as a lot of manufacturers produce hundred of different products which makes it difficult for them to monitor their product performance, get feedback from their customers and make positive improvements.
In an industry where delay can cost as much as a couple of millions in a single delay, improving your speed and delivery can save you a lot of money.
2. Reducing and Eliminating Waste
Waste is any service, product or activity that does not add any value to the customer. Most waste tends to be generated due to inefficiency in the Lean manufacturing process, this includes labour, energy, extra time and time spent on developing products which don't meet market demands. All this waste leads to inferior quality products which end up being more expensive for your customers as well.
Research has shown that using lean manufacturing principles to develop products speeds up the manufacturing by six months and helps in staying 35% closer to your products target costs, than competitors.
Lean principles can also help in making your office almost paperless by recycling and reusing paper and packaging waste. You can install an industrial paper shredder in your office to shred your paper waste. Your employees can access work orders on their mobile devices in real time and confirm that they executed and finished the assigned task without having to depend on pen and paper. You can save your money and time by eliminating both paper usage and paper wastage by shredding.
3. Iterative Development
Iterative development is a key lean manufacturing principle. The idea is simply to create and manufacture a simple product, let your customers try it and keep on improving it according to your customer's feedback. Testing products with your consumers prior to making bigger investments will help you save a lot of money in the long term and allow them to provide better value that is more relevant to your customers.
4. Quality and Reliability
Manufacturing reliable and quality products is every manufacturer's goal. For companies, quality products mean products that will last, so that assurance has to be established right from the beginning. A lot of lean development teams have found success by applying Lean development tools to manufacture quality products.
5. Lean Concept of Respect for People
Competition for top talent and from tech companies and an ageing workforce is forcing manufacturers to alter their talent management philosophies to create a culture of innovation.
Most engineering candidates want a job that enriches their experience and challenges them along with a good salary but they really want to do their bit and contribute positively to the world as well.
Accepting and implementing the Lean concept of respect can help your employees achieve this vision. In this regard, respect for people means that your people do everything that they can to create value for both existing and prospective employees.
Practicing respect creates a work environment whereby employees of all generations can find room to learn, adapt and grow in their respective careers.
6. Less Moving Around
Using lean manufacturing, machines and tools within a certain station are organized for optimal time and space efficiency- making less moving around during the production process. Cutting on the number of trips on your manufacturing floor can lower your operating costs and lead to better efficiency in the long run.
Author Bio:
Erich Lawson is very passionate about the environment and is an advocate of effective recycling. He writes on a wide array of topics to inform readers on how modern recycling equipment can be used by industries to reduce monthly wastage bills and increase recycling revenue. You can learn more about environment saving techniques by visiting his blog on Northern California Compactors, Inc.

Business Essentials is Africa's premium networking and business directory.
Read more from our Press Room:
___
Low-Cost Solutions with a Focus on Equity
___
How to Play the Werewolf Game – Fun with a Group in Winter
___
BWA Awards Send a Strong Message, Says corporate Winner
---
Related Articles:
TSIBA Helps Entrepreneurs Leap Forward in the Business World
0 comment(s)
---
Zoom Fatigue - Five Reasons Why You Want to Step onto a Plane Again
0 comment(s)
---
Supporting Small Business Through Ecosystem Boost
0 comment(s)
---
The Africa Continental Free Trade Area Protocol on Investment: A Prickly Pear for SADC and other Regional Economic Communities
0 comment(s)
---
#TakeControl Over Your Debt!
0 comment(s)
---