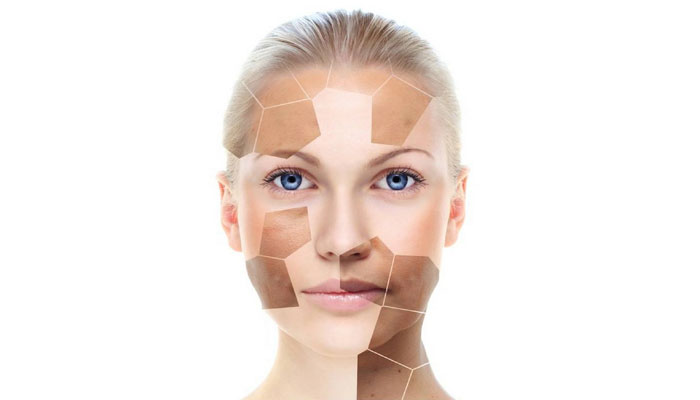 Find how you can minimise the look of pigmentation
Struggling with pigmentation? Fortunately, there are several ways to lighten up, but first, you need to understand more about what it is and why it's occurring.
Melanin is the pigment that gives your skin it's colour. It's produced by cells called melanocytes that exist in the deeper layers of your skin before travelling up to the surface where it's visible. When you're dealing with pigmentation, it's because your melanocytes are producing too much melanin in an unregulated fashion.
One of the things that trigger this is unprotected sun exposure and another is your hormones which is why natural shifts like pregnancy or menopause can have an effect on your skin's clarity. Either way, there are things you can do to help keep your complexion looking even-toned, both at home as well as in-office.
Do your homework
The best way to beat pigmentation is to avoid it in the first place by wearing a good sunscreen every time you set foot outside. Just a single day of unprotected sun exposure can unravel a months-worth of lightening up!
If it's too late and you're already dealing with an uneven skin tone you'll need to invest in topical treatments formulated with proven skin lightening ingredients. Just a few include hydroquinone, kojic acid and vitamin C. They help slow down the production of melanin and prevent it from travelling up to the surface of your skin where it's visible as pigmentation.
Skin Renewal has a great selection of pigmentation-inhibiting skin care and highly trained therapists that can help you find the products best suited to your skin type and concerns. Just two of our favourites include Lamelle's Luminesce collection and Neostrata's Enlighten range.
Both brands also make use of exfoliating ingredients like alpha hydroxy acids (AHA) that speed up your skin's cellular turnover. This essentially exfoliates the surface to fade existing pigmentation while the inhibiting ingredients prevent new excess melanin from rising to the surface.
You could also use an oral supplement like Ovelle D3 which is clinically proven to raise your level of resistance to the sun while reducing your skin's melanin content over time.
Step into the office
If you feel like your daily pigmentation-blitzing skincare routine isn't working fast enough or if your condition is more serious, make an appointment at any Skin Renewal branch for an in-office treatment.
There are lots of treatments that can reduce the look of pigmentation, including no-downtime peels like the Beta Melanostop and more intensive ones like TCA peels that will require a little hiding away, but only for three to five days.
Laser treatment can also be extremely effective and one of the best when it comes to undoing sun damage is Fraxel Dual. It can be used on any skin colour (some lasers aren't suitable for darker skin types) and, on average, three to five sessions spaced some two to four weeks apart will make a very visible difference if not completely even out your skin tone.
In short, when it comes to brightening up, there are lots of ways to do it, so make an appointment to see a highly trained therapist or doctor at Skin Renewal who can help you devise the best plan of attack.
Business Essentials is Africa's premium networking and business directory.
Read more from our Press Room:
___
Gondwana and the King Nehale Conservancy Join Forces
___
Buying to Rent Out – Safe as Houses?
___
Ground-breaking new App, BEE-Connex launches in South Africa
---
Related Articles:
The 7 Best-Kept Secrets for Buying a Home in 2020
0 comment(s)
---
CRS Engage Platform Builds a More Engaged Workforce
0 comment(s)
---
Can Consuming Collagen Benefit Your Skin?
0 comment(s)
---
Working in Coffee Shops - Is it Safe?
0 comment(s)
---
Cloud Still Too Pricey in SA
0 comment(s)
---