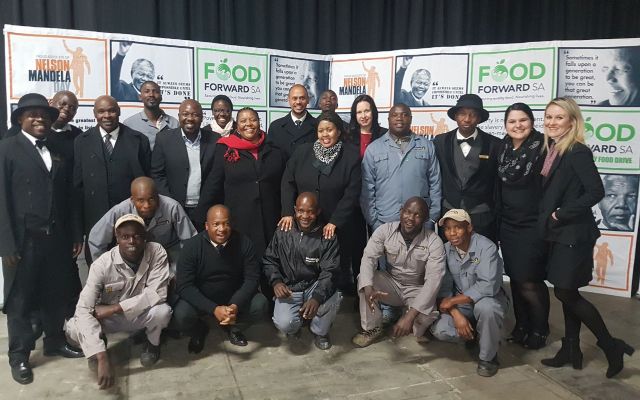 What can you do on 18 July for Mandela Day?
On 18 July 2018, Gallagher Convention Centre will be hosting FoodForward SA for their Mandela Day initiative
Gallagher is the venue sponsor for FoodForward SA's Mandela Day Food Drive corporate packing initiative in Johannesburg, for the second consecutive year.
FoodForward SA and Pick 'n Pay are partnering, in an attempt to raise 1,000,000 meals. The national food drive will help stock FoodForward SA's warehouses with staple foods during the winter. This will ensure that the 600 beneficiary organisations they serve can continue to provide warm meals to the 250,000 dependants daily.
Companies and individuals are invited to spend 67 minutes at the packing event taking place at Gallagher. They will sort and pack the donated groceries into food hampers for distribution to beneficiary organisations during winter.
Click here to sign up to volunteer as part of the FoodForward SA Mandela Day Food Drive.
About Gallagher Convention Centre
The 32-hectare Gallagher Convention Centre property offers 27 multi-purpose venues. These cater to a variety of events such as conferences, dinners, luncheons, cocktails, exhibitions and private events. At Gallagher, we aspire to offer unmatched service and quality to our clients and their guests.
Gallagher is the premier events venue in Gauteng. Established in 1993, Gallagher is a benchmark for the events industry.
Conveniently located in Midrand, between Johannesburg and Pretoria, Gallaher Convention Centre is known for its distinctive character, style and superior service offering.
The Gallagher Convention Centre property has a unique advantage with our tranquil setting and beautiful gardens, ensuring a memorable experience for every visitor to the property.
Business Essentials is Africa's premium networking and business directory.
Read more from our Press Room:
___
African Leaders in Artificial Intelligence to Gather at Largest Pan-African AI Community Expo
___
Celebrating 20 Years Of Strategic Social Investment
___
The History Of Houghton House Drug Addiction Recovery Centre
---
Related Articles:
The Africa Continental Free Trade Area Protocol on Investment: A Prickly Pear for SADC and other Regional Economic Communities
0 comment(s)
---
In a Post Covid-World, the Africa Continental Free Trade Area could not come soon enough
0 comment(s)
---
How the Environment Affects Your Health, and What You can do About It
0 comment(s)
---
Resilience is Critical for Business Success in Our Post-COVID-19 Future
0 comment(s)
---
Are You Ready for the 4IR?
0 comment(s)
---