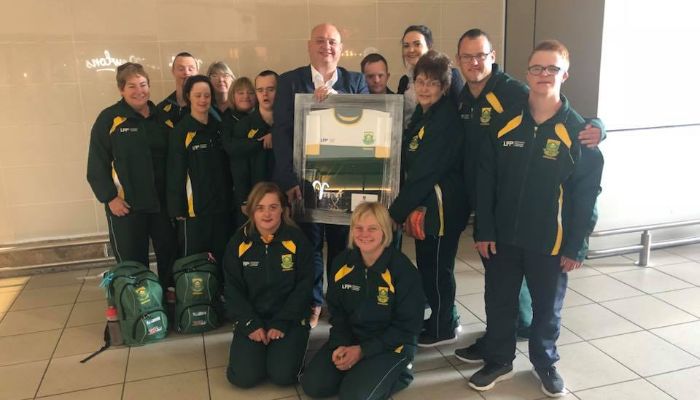 An opportunity to compete at a world-class level
A group of talented swimmers will represent South Africa at the 8th edition of the Down Syndrome World Swim Champs, which takes place in Canada from 20 – 28 July 2018.
This event is hosted every two years and provides our down syndrome athletes with the opportunity to compete at a world-class level.
LFP Training is a proud sponsor of Down Syndrome Swimming South Africa and attended the team's send-off at OR Tambo on 17 July 2018. As a company devoted to upskilling disabled and unemployed individuals in South Africa, this cause truly resonates with LFP Training.
According to Jacolien Botha, Marketing and Advertising Manager for LFP Training, helping to get the team to Canada is a huge honour for the company. "We are so proud of our swimmers who have proved that anything is possible. The team is set to make us proud on a world stage and we wish them the best of luck."
Also in attendance at the send-off, LFP Training's Head of Sales, Francois Pulzone says that disabled individuals in the country should not be underestimated. "Driven and dynamic individuals at all ability levels are hungry for success. This team is going to make us all so proud and we are so pleased to play our part in getting them to Canada. Let's stand behind them and wish them great success at this prestigious sporting event".
Business Essentials is Africa's premium networking and business directory.
Read more from our Press Room:
___
Social Investors to Rethink Role in Mainstreaming Impact Investing in SA
___
Occupational Health and Safety Changes: First Aid Training
___
New Ways of Working – Embracing 'Always On'
---
Related Articles:
ContinuitySA's Willem Olivier Named African Industry Personality of the Year
0 comment(s)
---
Instigating Innovation: Where To Start
0 comment(s)
---
Working Tribes: 30 Years of Changing the Way You Work
0 comment(s)
---
Everything You Need to Know About South Africa's Credit Bureau's
0 comment(s)
---
Put Your Best Face Forward With a 3D Peel
0 comment(s)
---