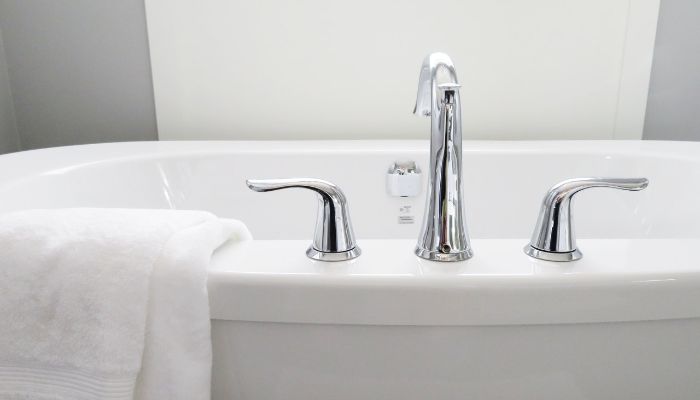 Luckily there are a number of ways that you can easily breathe new life into your bathroom without breaking the bank
Bathrooms are always popular candidates for makeovers. This is likely because they're one of the most used spaces in a home. It is the only space, other than the bedroom, that presents itself as a sanctuary in a similar way.
"A well-maintained bathroom is an asset to your property as few things put a potential buyer off more than a run-down bathroom," says Kim Hogben, Principal at Leapfrog Durban Central.
Unfortunately, bathroom renovations can be pricey. It often requires the expert skills of plumbers, electricians, carpenters and builders, Hogben adds. Luckily there are a number of ways that you can easily breathe new life into your bathroom without breaking the bank.
Cosmetic changes can go a long way in updating the look and feel of the space. This includes new fittings, mirrors and accessories, which means an instant update can be achieved without touching the structural elements.
Here are some of our top tips for elevating your bathroom from bland to blissful.
WORK WITH WHAT YOU HAVE
Before you throw the baby out with the bathwater, consider what can be refreshed with a touch of imagination, a trip to your local hardware store and some elbow grease.
"These days tiles, cabinetry and even fixtures like taps can easily be painted, which is a significantly cost-effective alternative to replacing it," says Hogben. Be sure to prepare and prime surfaces properly before painting as this is the secret to ensuring a more professional look. An advisor at your local paint store will be able to assist with this.
SECOND TIME AROUND
Where you do want or need to replace the sanware and fixtures, consider buying second-hand. Renovators and remodelers often sell the pieces they remove from a bathroom at a significantly discounted price. If you're willing to take the time to shop around – try the classifieds or Gumtree. You may well bag a bargain on something that is still in tip-top shape. "Do note though that what you save on material costs you may have to spend on having the bath, toilet or sink professionally installed by a plumber and/or builder," Hogben warns.
CONSIDER THE ENVIRONMENT
A renovation is a perfect time to spare a thought for the environment by installing low-flow toilets, sinks and shower heads. They may be marginally more expensive to install but you'll be saving water, which means savings – both monetarily and environmentally – in the long run.
ACCENTS AND ACCESSORIES
Accessories aren't just for outfits and accents don't just belong to foreigners!
Add a touch of playfulness – or luxury – to your bathroom with a wallpapered accent wall, or a creative pop of paint colour behind the toilet. Frame the mirror or window in an expected way, or paint a mural on the ceiling. Accents are an excellent way to have fun.
What's great about accessories is that they can easily be updated, in line with trends, seasons or simply your taste. A plant in a pretty planter adds an instant touch of life and freshness to the bathroom, while framed prints or photos make the space more personal.
STIMULATE THE SENSES
Lastly, but perhaps most powerfully, much of how we experience a space has to do with how it engages our senses. Beyond what the bathroom looks like, the appeal also has to do with what it feels and smells like.
Creating a more sensual bathroom can be as simple as adding soft textures, like a soft rug or cotton mat to step onto when you get out the shower, or a large fluffy towel on the rail that looks as inviting as it feels. Similarly, a bathroom that smells great (and not of the stark scent of cleaning products) is utterly indulgent. Consider a diffuser, an oil burner or scented candles to add a whiff of serenity to the air.
"Even cosmetic changes add to the value of your property if you are trying to sell," says Hogben. A space that feels serene and inviting speaks to potential buyers on a sublime level. And who doesn't love the indulgence of a clean and cosy bathroom?
Business Essentials is Africa's premium networking and business directory.
Read more from our Press Room:
___
The ABC of Buying a Second Property
___
Mandela's former Houghton residence envisioned as Presidential Centre
___
Overcoming Supply Chain Challenges to Help Win the War Against AIDS
---
Related Articles:
Why Millennials are Losing Their Hair
0 comment(s)
---
Removing Vulnerability in Residential and Commercial Estate Management
0 comment(s)
---
What Employers Need to Know About Hearsay Evidence
0 comment(s)
---
Unpacking the BEE Management Tool
0 comment(s)
---
IBA Group Opened a Digital Twin Laboratory
0 comment(s)
---