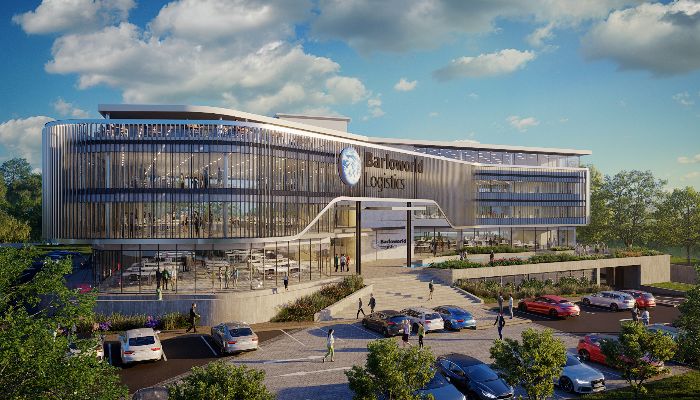 The Barloworld Logistics headquarters will be an anchor commercial tenant. It will take up 5500m2 of property with a 4-star, green-rated building
On 13th July 2018, Barloworld Logistics celebrated a significant milestone in the journey to their new facility. A SOD turning ceremony was hosted on-site. The teams from all partner organisations were able to get their first real feel of the building to come. The event was a landmark event in the history of the Barloworld Logistics. The planned move represents the first time that the headquarters of the supply chain company will be leaving Barlowpark and the greater Sandton area.
According to Kamogelo Mmutlana, Chief Executive Officer at Barloworld Logistics, the planned fit-for-purpose building will be a space that operates as a high-performance centre. It will encourage collaboration between employees, engaging clients and offering a business centre where innovation and ideas flourish.
The ceremony
"The SOD ceremony is the first tangible milestone in the exciting journey to our new headquarters", says Mmutlana. "Being on-site amongst the various project teams and seeing the work in progress brings home the reality of this exciting project. We have deep-seated roots in Barlow Park, but this move will see us becoming part of an important business node within Gauteng. Our new headquarters will be the physical embodiment of our vision for the company – modern, fit-for-purpose and value-creating for the Barloworld Group, our customers and our employees."
Barloworld Logistics will take occupancy of its new headquarters in the first half of 2019 in the mixed-use precinct named Irene Boulevard, developed by Abland with Giflo Developments and architectural services company Skidmore, Owings & Merrill. The mixed-use precinct is just off the Botha Avenue interchange close to the N1 highway. It will comprise a 16 000m2 lifestyle and shopping centre. The Barloworld Logistics headquarters will be an anchor commercial tenant taking up 5 500m2 of property with a 4 star, green-rated building.
"This project is arguably one of the most ambitious in the history of Barloworld Logistics, and it is only through collaboration with our partners that we have reached this milestone", says Mmutlana. "We are looking forward to our new headquarters being a beacon for all our stakeholders, a landmark within the precinct and place where we can grow as a business and create a bold new future".
Spokesperson: Kamogelo Mmutlana, CEO, Barloworld Logistics
Business Essentials is Africa's premium networking and business directory.
Read more from our Press Room:
___
Suppliers Serving The Digital Economy Requires Disruption
___
Visiting Blue Lagoon in Iceland
___
Continued Growth for Brand after 50 Years
---
Related Articles:
Cheffing Success Takes A Lot More Than Cooking
0 comment(s)
---
Why Saving Money is Important
0 comment(s)
---
East Africa-China: A Delicate Debt Balance
0 comment(s)
---
2020 Risk Outlook: Use GRC to Build Resilience
0 comment(s)
---
2020 Ushers in New Importance for HR and Payroll Data
0 comment(s)
---