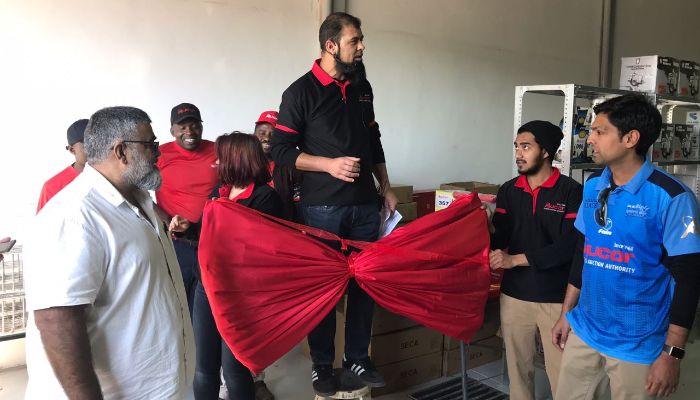 Local job creation is paramount to Aucor's continued growth and development
As Africa's Auction Authority for the past 50 years, the Aucor Group has welcomed a new addition to the family. They have recently opened the Aucor Polokwane branch.
Aucor Polokwane opened its doors to the public by holding its first official auction on Tuesday, July 31st. This follows the recent ground-breaking and first-of-its-kind partnership between Aucor and De Beers South Africa. Aucor Limpopo launched in May, earlier this year.
At the heart of Aucor's business strategy is people. A key element of their development is making auctions more accessible to the general public.
"The Aucor Group are constantly investigating the possibilities of opening new branches around the country and expanding further into southern Africa. Aucor Polokwane intends to cater for a local and national audience with our auctions and in turn, to uplift the local community as a result," comments Aucor Polokwane's MD, Rafik Khan.
Benefits of the new branch
The new branch will offer an auction site for people in smaller communities around the Limpopo province. It will thereby generate jobs and income earning capabilities for the local people.
Aucor is proud to be known as Africa's Auction Authority and has worked hard to establish its credibility and sustainability over its unmatched 50 years in the business. Aucor has remained steadfast in its determination to offer the best service and most competitive auctions to its loyal customer base of major corporates, financial institutions, liquidators, business rescue practitioners and mining houses alike.
Fanie Bielderman, Aucor Senior Executive and Spokesperson acknowledges that the company has grown because of its solid foundation: "Aucor's years of diverse industry experience places us at the forefront of auctions within southern Africa. We aim to continue implementing forward-thinking strategies to allow our staff, buyers and sellers, the ability to experience an unmatched, seamless auction experience."
Aucor Polokwane is located at 63 General Joubert Street, Polokwane. For more information, contact Aucor or call 082 786 8226.
Business Essentials is Africa's premium networking and business directory.
Read more from our Press Room:
___
The Power Of A Personal Brand
___
Mental or Emotional Stress
___
Training South African Process Technicians
---
Related Articles:
How Long Does Debt Counselling Take?
0 comment(s)
---
The Willard® BLUE Battery Promotion Has a Winner!
0 comment(s)
---
The Development of a Solar Photovoltaic Market in Ghana
0 comment(s)
---
Businesses to be Verified Based on New B-BBEE Code Amendments from 01 December
0 comment(s)
---
SAP SuccessFactors & Skillsoft
0 comment(s)
---