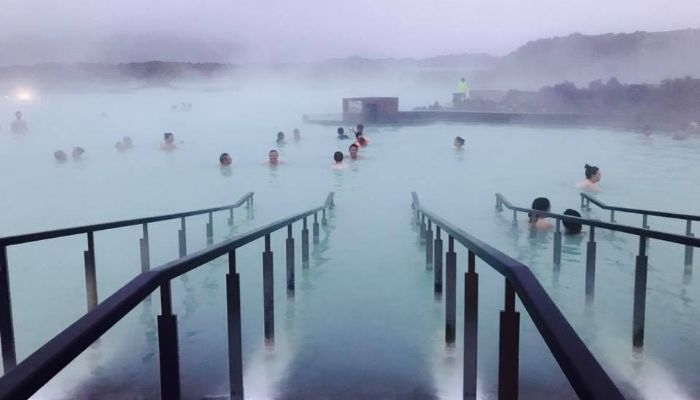 It's safe to say that visiting the Blue Lagoon is a must have item on everyone's bucket list when planning a visit to Iceland
While soaking in the milky blue waters and doing wonders for your skin, it's also a wonderful way to get rid of stress and say goodbye to any worries you may have- while keeping warm in the Iceland weather.
Interesting Facts about the Blue Lagoon
• The Blue Lagoon is actually a manmade lagoon; A nearby power plant, Svartsengi, was drilling to create electricity and hot water for nearby communities and the Blue Lagoon was originally an accidental by-product of this process.
• The geothermal water features three active ingredients: Silica, Algae & Minerals.
• While it looks blue, the water is actually white. If you pour it into a transparent cup, it will have a milky white colour. The sun simply makes it look blue!
• The water temperature is 37-40°C, year-round
• The deepest the Blue Lagoon gets is 1.6 metres.
How much does it cost?
The entry fee to the Blue Lagoon is only 40 Euros which also includes a free non-alcoholic drink to enjoy at the bar inside the lagoon, as well as silica mud to use as a face mask, and access to all the saunas and steam rooms at the spa! This day spa is well worth the mini splurge.
Helpful Tips
The Blue Lagoon is about 45 minutes outside of Reykjavik and about 20 minutes away from the airport. There are shuttle transfers available to the Lagoon from both locations. The weather in Iceland is highly unpredictable. You will often experience all four season in a single day! Don't let bad weather keep you from going to the Blue Lagoon. The water is not boiling hot, but rather like warm bathwater. Though, after swimming around to different areas, you will find some spots are warmer than other.
The Blue Lagoon Packing List
• Bathing suit & flip flops
• Hair tie (The minerals make your hair brittle, so it was suggested that those with long hair tie it up and lather it with conditioner before entering the lagoon)
• Camera/ cell phone with protectant bag
• Shampoo (Your hair will feel so dry once you get out the lagoon)
• Body wash, conditioner, hair dryers, and plastic bags for wet swimsuits are provided at the Blue Lagoon for no additional charge
Contact XL Bay Travel for more information.
Business Essentials is Africa's premium networking and business directory.
Read more from our Press Room:
___
Continued Growth for Brand after 50 Years
___
The Power of A Personal Brand
___
How to Achieve a Good Sales Result in a Flat Property Market
---
Related Articles:
How Long Does Debt Counselling Take?
0 comment(s)
---
The Willard® BLUE Battery Promotion Has a Winner!
0 comment(s)
---
The Development of a Solar Photovoltaic Market in Ghana
0 comment(s)
---
Businesses to be Verified Based on New B-BBEE Code Amendments from 01 December
0 comment(s)
---
SAP SuccessFactors & Skillsoft
0 comment(s)
---