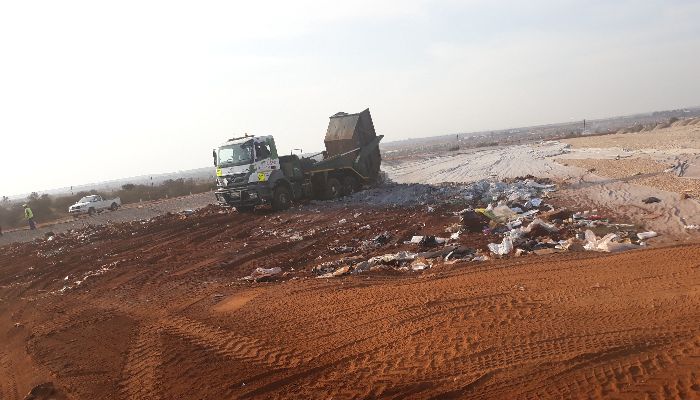 The recommissioning of Rosslyn Landfill will allow EnviroServ to generate employment for between 100 and 150 locals
EnviroServ's Rosslyn landfill site is to begin accepting waste again from 1 August 2018, bringing welcome relief – and certainty – to the people of Pretoria and especially those in the northern suburbs.
Rosslyn's acceptance of waste will immediately provide the capacity to handle up to 50 000 ton of light industrial and domestic waste per month.
Rosslyn is well positioned for household waste from the capital's northern suburbs. The site will only be accepting general waste, but the possibility exists to extend its capacity to expand recycling initiatives, including gas extraction and green waste composting.
The recommissioning of Rosslyn will allow EnviroServ to provide a service to the Tshwane area and generate employment for between 100 and 150 local people to handle the onsite reclamation of recyclables.
"EnviroServ has been in business for almost 40 years and we have played a major role in Gauteng, bringing our expertise to bear when it comes to turnkey waste management solutions," said EnviroServ spokesman Thabiso Taaka.
"We are overjoyed to be able to accept waste at Rosslyn again to meet the needs of our capital city and to serve the people of Pretoria," he said.
About Enviroserv
EnviroServ Waste Management is the leading African waste management brand which has been in existence in South Africa and sub-Saharan Africa for more than 37 years.
EnviroServ Waste Management has been a leading African waste management brand for more than 37 years. We have operations in nine provinces of South Africa as well as Botswana, Lesotho, Swaziland, Zambia, Uganda and Kenya, where we own and manage eight hazardous and non-hazardous landfill facilities. We offer appropriate solutions to complex hazardous and non-hazardous waste and chemical problems and assure our clients of peace of mind with regard to legal compliance. Also, we ensure safe handling, transportation and management of hazardous and non-hazardous waste and support the government's objective of minimising waste to landfill.
Business Essentials is Africa's premium networking and business directory.
Read more from our Press Room:
___
Green Point – Trendy Cottage Sells for R6,2m
___
Breaking New Ground in Logistics
___
Suppliers Serving The Digital Economy Requires Disruption
---
Related Articles:
Zoom Fatigue - Five Reasons Why You Want to Step onto a Plane Again
0 comment(s)
---
Supporting Small Business Through Ecosystem Boost
0 comment(s)
---
The Africa Continental Free Trade Area Protocol on Investment: A Prickly Pear for SADC and other Regional Economic Communities
0 comment(s)
---
#TakeControl Over Your Debt!
0 comment(s)
---
In a Post Covid-World, the Africa Continental Free Trade Area could not come soon enough
0 comment(s)
---