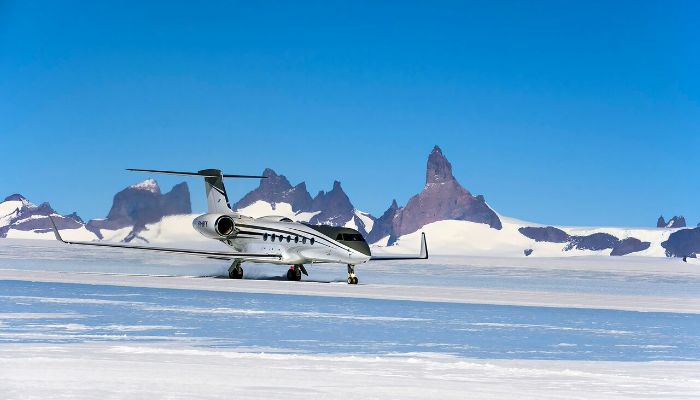 An opportunity to explore the icy splendour
Whether you are an expert traveler with only a few places that you have not seen yet, or just looking to tick something off your bucket list, we hereby offer the opportunity to visit one of the few last frontiers left.
We will help you set foot on Antarctica and experience a truly new horizon. Be part of this unforgettable experience and book through our Charter Division 
With a global fleet of 160 aircraft and 42 bases around the globe, ExecuJet is now proud to announce that we have added Antarctica as a destination to our list.

Inside the sleeping pod. Source: Execujet
PACKAGES
Packages are available during November –  February. Limited space available.
THE GREATEST DAY
12 January 2019
Limited spaces available
This is the chance to experience the real interior of Antarctica in a single day. 5hrs spend on the ground at Wolfs Fang Runway to partake in a host of adrenaline-fuelled activities. You can buy a seat on our Gulfstream 550 private jet which will land on a specially prepared blue ice runway.
Ice & Mountains
(Group of 12) 17-21 Jan 2019
A trip designed for the time-strapped traveler ready to experience new horizons in luxury travel. In just 4 days, you will connect to Antarctica via private jet, marvel at the Wolf¹s Fang peak rising 1,000m out of the ice and stay at the unique Whichaway Camp, the only camp of its kind in the world.
Emperors & South Pole
(Group of 12)  22-29 Dec 2018
20-28 November 2018 (Limited space available)
28 November – 06 December 2018 (12 Spaces available)
22 – 29 December 2018 (limited space available)
29 December – 04 January 2019 (6 nights) (limited space available)
10-17 January 2019 (7 nights) (12 spaces available)
This luxury 8-day adventure takes you into the heart of Antarctica to see the Emperor Penguins.  Then onwards to the lowest point on earth – the South Pole!

Inside the ice tunnels. Source: ExecuJet
BOOK YOUR SPACE TODAY!
Contact us on:
charter@execujet.co.za |+27 11 516 2300 / +27 82 330 7399
Business Essentials is Africa's premium networking and business directory.
Read more from our Press Room:
___
Nooitgedacht Village Offers Rare Investment Opportunity
___
Healthcare Inquiry | Bonitas Medical Fund
___
Termidor® SC Addresses Growing Challenge of Termite Infestation
---
Related Articles:
The Africa Continental Free Trade Area Protocol on Investment: A Prickly Pear for SADC and other Regional Economic Communities
0 comment(s)
---
In a Post Covid-World, the Africa Continental Free Trade Area could not come soon enough
0 comment(s)
---
How the Environment Affects Your Health, and What You can do About It
0 comment(s)
---
Resilience is Critical for Business Success in Our Post-COVID-19 Future
0 comment(s)
---
Are You Ready for the 4IR?
0 comment(s)
---