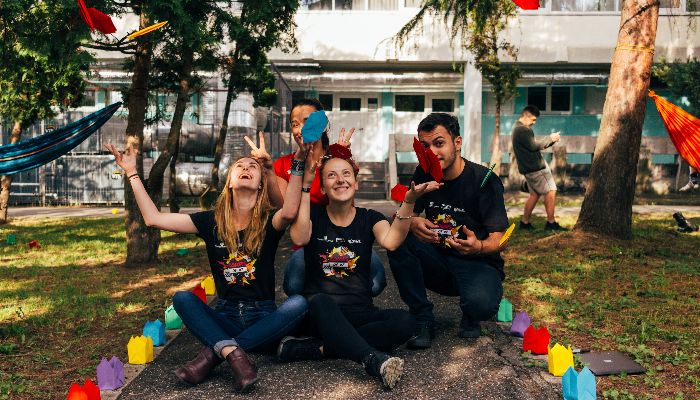 The ICT Academy is vital if youth are to be employable in the fourth industrial revolution
Afrika Tikkun hosted its first Information Communication Technology (ICT) Academy launch in partnership with Think Tank under the theme 'let's tackle the ICT skills shortage'.
Group Executive of Partnerships and Marketing, Onyi Nwaneri and Think Tank Managing Director Tebogo Moleta opened the launch event. Also speaking at the event was Cisco's Soso Motloung on the role of women in IT. Fortinet's Peta-Lee Wainer was also there, and addressed the youth and how to develop a career in Network Security Engineering.
Marc Lubner CEO commenting on the launch, said: "The ICT Academy is vital if youth are to be employable in the fourth industrial revolution. Navigating the net and being able to utilise information technology is as critical as maths and science in today's world. Afrika Tikkun commits to providing youth with these employable skills. It's all part of our holistic development program."
The ICT Academy launch created a dialogue between delegates from the IT/ ICT, financial services and network engineering sectors. There were additional 2018 Afrika Tikkun ICT Academy candidates, representatives from the public sector, NGOs and the corporate sector. Attendants took the opportunity to review the failures, challenges and successes of combatting the skills shortage in the ICT industry. They also reviewed the social and financial determinants impacting the sector. This included a discussion on suitable industry aligned skills sets and standards in light of the approaching Fourth Industrial Revolution.
Vendor-specific programs
In addition, an exchange took place around the availability of adequate and affordable learning centres. They discussed the effective partnership of Afrika Tikkun and Think Tank with regard to the supply of vendor-specific programs to ensure that these and other opportunities are correctly pursued.
Onyi Nwaneri, Group Executive of Partnerships and Marketing added: "This is the start of great things for Afrika Tikkun in partnership with ThinkTank. We are moving in the right direction to get young people ready for the 4th industrial revolution by training them for jobs that we know they will get when they have graduated. Thanking all our partners present today, including ThinkTank, Cisco, Internet Solutions and Fortinet". With the rapid evolution of technology in terms of information, communications and artificial intelligence it is imperative that our young people are given as much opportunity as possible to learn and prepare for changing professions and job specifications in the years to come.
Afrika Tikkun and Think Tank are committed to working together to better understand and service the ICT sector. They have a view to looking out for the economic well-being of South Africa's IT/ ICT sector. Moreover, they have a view to prepare our kids for the Fourth Industrial Revolution and to cultivate a future that works for us all."
New generation
"We are creating a generation of Network Security Engineers on the pulse of technology. They are the next generation of leaders and managers in IT. Today marks the beginning of a new journey towards great things." Think Tank Managing Director Tebogo Moleta
For more information on Afrika Tikkun and their initiatives call 011 325 5914, email info@afrikatikkun.org or visit.
Business Essentials is Africa's premium networking and business directory.
Read more from our Press Room:
___
6 Steps To Take When Feeling Burned Out
___
King Price Offers a Holistic Business Insurance Suite
___
Is a Lack of Sleep Wreaking Havoc on Your Health?
---
Related Articles:
Zoom Fatigue - Five Reasons Why You Want to Step onto a Plane Again
0 comment(s)
---
Supporting Small Business Through Ecosystem Boost
0 comment(s)
---
The Africa Continental Free Trade Area Protocol on Investment: A Prickly Pear for SADC and other Regional Economic Communities
0 comment(s)
---
#TakeControl Over Your Debt!
0 comment(s)
---
In a Post Covid-World, the Africa Continental Free Trade Area could not come soon enough
0 comment(s)
---