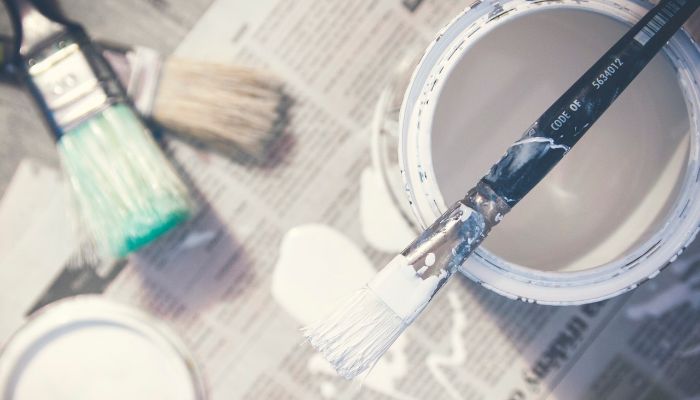 Anybody who has ever lived in a rental property will know that almost all rental agreements stipulate that any amendments to the structure of the property are strictly prohibited
Many tenants find this frustrating because even if you don't own the property, it's still your home. It's understandable that you want to make it look and feel like yours.
Some alternations and interventions that don't necessarily impact on the structure of the house or flat.
"Most landlords allow for a reasonable measure of customisation, provided you check with them – in writing – before doing anything," says Harry van der Linde, Rentals Principal at Leapfrog Pretoria East.
Make sure that you do amendments neatly and professionally so that it can easily transform back to its original state.
Van der Linde shares tips and pointers for simple, minimally invasive ways to renovate a rental.
Off the wall
Wallpaper is currently experiencing its biggest revival since the 1970s! And don't think it's all florals and paisley-like granny used to have in the bathroom… No, wallpaper today is available in a smorgasbord of colours, patterns and designs. "It's a great way to create a feature wall, a focal point or a touch of playfulness to a room," Van der Linde suggests. And the best part is that certain wallpapers are removable. Meaning you can neatly and easily remove it again when you move out of your rental.
A coat of paint
The great thing about paint is that it is not permanent and that you can simply paint over it again. Neatly painted walls can make all the difference in a home. Whether a neutral palette is more your style, or you prefer bursts of colour, paint is the way to easily enhance the overall aesthetic of a place.
Mirror mirror on the wall
Mirrors are a wonderful way to enhance a space by creating the illusion of more space. They also reflect light – both natural and from the fittings. This works to make a room appear warmer and more inviting.
"Replacing an outdated mirror with one that is more contemporary in shape, and with a more trendy frame or finish can do wonders for adding that extra something to your rental," Van der Linde recommends.
Make light of it
Much like mirrors, outdated, impractical or unsuitable light fittings can be a real eyesore in a home. The good news is that they are super easy, and generally very affordable, to replace. A chandelier may be just the things for a double volume space, while an elegant pendant light can go a long way to lighten most rooms with ceilings of a conventional height. And when it is time to move out, you can always change them back to what they were before, if needs be.
Hardworking hardware
Not an easy or cheap intervention, but certainly one that can make a big difference in updating a rental is to look at replacing the hardware. But only if you have a long- to medium-term lease, says Van der Linde. Things such as sanitary fittings, kitchen counters, shower doors and even carpets are some of the hardware of a home that needs to be updated every 15 years or so. This is not the type of thing you should do without consulting the landlord. "In fact, it may be the kind of thing that the landlord and/or homeowner would be willing to pay for, as it adds to the overall value of the property," Van der Linde reckons.
A helping hand(le)
With interiors and the overall look and feel of a room, the difference is often in the detail. Little things like door and cupboard handles are a seemingly small thing, but it can really help to update the look of a room. Think black ceramic, polished metal, vintage, antique or anything in between.
It's another way to discreetly add a design element to a room, which can effortlessly be restored to its former state.
Smile for the shelfie
Shelves are an often overlooked feature that can enhance a space in several ways. Floating shelves, in particular, are unobtrusive, easy to install and are as pretty as they are practical. It's a clever way to add more storage space to a room or to display interesting objects, special picture frames or other such items of meaning.
Check that whatever it is that you want to do doesn't contravene the terms of the rental contract. "In all cases, it is essential to check with the landlord and get permission in writing, before spending money and effort on sprucing up a rental, though cosmetic enhancements are often forgiven, if not encouraged," Van der Linde concludes.
Business Essentials is Africa's premium networking and business directory.
Read more from our Press Room:
___
Property Co-ownership: The Good, the Bad and the Letter of the Law
___
6 Steps To Take When Feeling Burned Out
___
King Price Offers a Holistic Business Insurance Suite
---
Related Articles:
Zoom Fatigue - Five Reasons Why You Want to Step onto a Plane Again
0 comment(s)
---
Supporting Small Business Through Ecosystem Boost
0 comment(s)
---
The Africa Continental Free Trade Area Protocol on Investment: A Prickly Pear for SADC and other Regional Economic Communities
0 comment(s)
---
#TakeControl Over Your Debt!
0 comment(s)
---
In a Post Covid-World, the Africa Continental Free Trade Area could not come soon enough
0 comment(s)
---