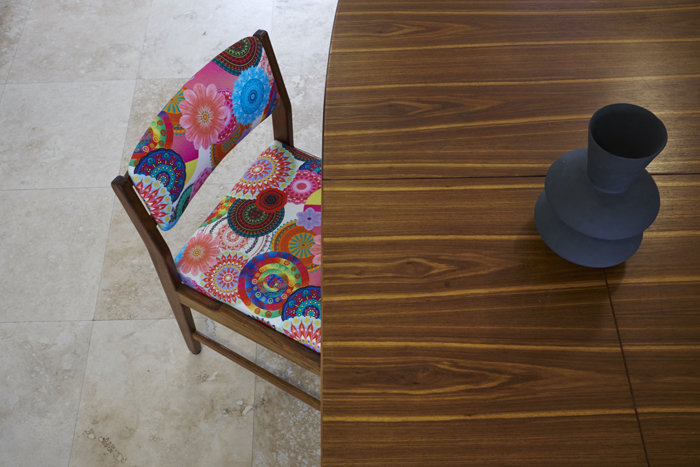 What's not to love about Mid-century modern pieces, says interior designer Mullerie Rabe-Taljaard?
By mullerie.R

Consider some of the biggest names in modern architecture and product design and you're bound to include some of the greats of the mid-century modern period. The likes of Ray Eames, Charles Eames, Arne Jacobson, Hans Wegner, and Mies van der Rohe all left their indelible mark on the styles we commonly associate with this period and have contributed to our enduring love affair with it.
There is some debate as to the exact start and end dates of the mid-century modern period, but most agree with the loosely held belief that the period stretched from somewhere in the 1930s to the mid-1960s.
Interior designer Mullerie Rabe-Taljaard and one of her product collaborators Julian Smith, owner of Lampsonline.co.za, are both proponents of this much-admired design period.
"I have always been a huge fan of Julian's inimitable style and his keen eye for mid-century modern furniture design, which is not that easy to find locally," says Mullerie of her Johannesburg-based collaborator.
Julian concurs. "One of the things I love about mid-century furniture design is the pointed toothpick legs and sense of lightness that the furniture of this era has. The design lines are fluid and organic and yet they have a 1950s space-age creativity to them. I love the chairs from this period, as they are absolute statement pieces that become the focal point of the interior décor scheme.
Julian's Curl chair, illustrated here, is a reinterpretation and updated version of the Karpen Horn chair, a popular mid-century modern piece, that has been reimagined in a wider, curvier version of the original Californian classic. "We placed the chair on slimmer gold toothpick legs to create a lighter feel. The original Karpen Horn had thicker dark wood legs with a horizontal bar across the front," he explains.
Aesthetically, says Mullerie of the Curl chair, mid-century modern lines are a perfect platform for latter-day metals, which ties in perfectly with Julian's use of metal or wooden legs painted in the same colour as the heavily textured upholstery fabric.
"I am not a huge fan of varnished wood as I feel it creates a too-literal interpretation of the mid-century modern theme and the chair would lose its contemporary feel if we had gone that route," says Julian.
The partnership between Mullerie and Julian has grown from strength to strength over the years since Julian opened his Lampsonine.co.za showroom in Parkhurst back in 2008 when Mullerie was the resident designer for Melrose Arch. Since then she has enthusiastically incorporated a number of his designs into her projects.
Their collaboration is an effortless and seamless affair that centres on chairs, says Julian. "I work on the design and manufacture and Mullerie places them in her interior projects for clients."
Julian, says Mullerie, is certainly one of her preferred product developers. "I tend to spend an enormous amount of time on the concept phase of a restaurant or boutique hotel here and overseas and I always know that I can leave that one statement piece from design to final manufacture in Julian's capable hands. He is hugely talented and a perfectionist."
Business Essentials is Africa's premium networking and business directory.
Read more from our Press Room:
____
Find The Ideal Retirement Home in Johannesburg
____
The Unseen Effect of Electronic Devices
____
Leadership For Girls Academy Graduation Ceremony
---
Related Articles:
TSIBA Helps Entrepreneurs Leap Forward in the Business World
0 comment(s)
---
Zoom Fatigue - Five Reasons Why You Want to Step onto a Plane Again
0 comment(s)
---
Supporting Small Business Through Ecosystem Boost
0 comment(s)
---
The Africa Continental Free Trade Area Protocol on Investment: A Prickly Pear for SADC and other Regional Economic Communities
0 comment(s)
---
#TakeControl Over Your Debt!
0 comment(s)
---