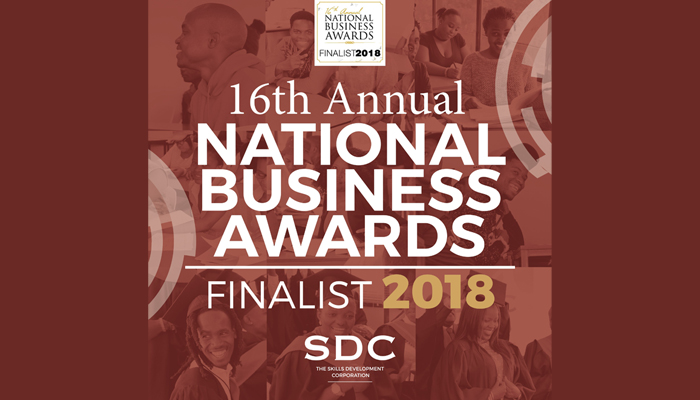 Celebrating growth leaders across South Africa
National Business Awards has announced the finalists for the 16th annual National Business Awards in the Education Training and Skills Development Award category. SDC will compete against other finalist in the category for the winner's trophy at Emperors Palace on 15 November.
The awards recognise companies with outstanding performance in areas including sustainability, customer focus, tech innovation, and fast growth. With its rigorous research and criteria, the accolade is recognised as a benchmark for business excellence.
Commenting on the achievement, Van Fletcher, Director, Top Communications and Media said, "We are excited and proud to have been identified as a top performing company, as this nomination is confirmation of the professionalism, dedication, and teamwork of our people. Our qualification is an indication of our commitment to driving growth in the South African economy."
Through their recognition on the national stage, past National Business Awards finalists and winners have ignited the ambition of peers in their sector to pursue a similar high water-mark – and SDC hopes to do the same.
"We are tremendously excited by the entries we received at the National Business Awards this year. For the first time, we have added sector-specific categories, allowing us to celebrate the growth leaders across the South African economy. Helping us celebrate their successes on the night, VIP speakers Colin Coleman from Goldman Sachs, Bonang Mohale from Business Leadership South Africa and Asha Patel from Google SA will be in attendance. It really promises to be a stellar event." Says Van Fletcher
For more information on SDC's National Business Awards journey, please contact Kyle Gardner on kyle@sdcorp.co.za or 010 900 3115
For category sponsorship, media or awards table enquiries, email: nadia.maritz@topco.co.za or call 0860 009 590.
Visit www.nationalbusinessawards.co.za for more information and view video highlights here.
Business Essentials is Africa's premium networking and business directory.
Read more from our Press Room:
____
Leadership For Girls Academy Graduation Ceremony 2018
____
Access To Finance In The Value Chain
____
CEO Appointments – Career Trophy or Career Suicide?
---
Related Articles:
ContinuitySA's Willem Olivier Named African Industry Personality of the Year
0 comment(s)
---
Instigating Innovation: Where To Start
0 comment(s)
---
Working Tribes: 30 Years of Changing the Way You Work
0 comment(s)
---
Everything You Need to Know About South Africa's Credit Bureau's
0 comment(s)
---
Put Your Best Face Forward With a 3D Peel
0 comment(s)
---