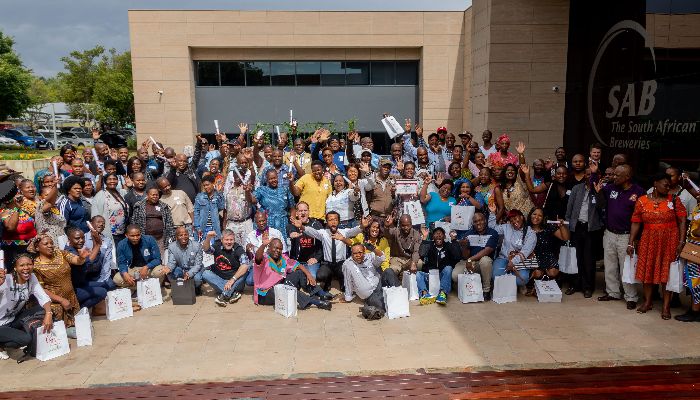 An intensive AB InBev Retailer Development Programme (RDP) aimed at improving the chances of liquor retailers in experiencing financial success has been completed in South Africa, Ghana, and Tanzania.
Two hundred liquor retailers each in Tanzania and Ghana, and 155 in South Africa, based in Gauteng's Thembisa, Sebokeng and Mamelodi, graduated from the business skills training programme. "In South Africa small business failure rate is almost 80% due to a range of issues including the lack of support and resources they have available to them in managing and growing their business," said David Hauxwell, SAB VP Procurement and Sustainability.
"It's important to take a holistic approach to improving lives through business by creating new entrepreneurs and empowering existing business owners so that they operate sustainable entities able to create jobs within local communities and sufficiently provide for the retailer and their families."
The RDP training involves a combination of facilitator classroom sessions, in-store coaching and visits to the retailer's business premises, as a comprehensive approach to developing retailer business and entrepreneurial capability.
Hauxwell said the RDP was a high impact approach to engaging liquor traders on the effects and harm caused by the misuse of alcohol in local communities and highlighted the importance of trading responsibly to maintain their licence to trade.
"The extensive network of retailers with whom AB InBev works across our markets occupy the perfect position within society to be leading role models in the drive to reduce the harm caused by the misuse of alcohol and to encourage more responsible alcohol consumption habits amongst community members."
The RDP training was tailored to the requirements of retailers in the three African markets after SAB undertook in-depth research among to understand their needs as business owners and to identify the gaps and opportunities.
The RDP training included determining whether the business was making or losing money; financial management, including separating business and personal finances; adequate stock and record-keeping; managing cash for working capital; identifying and evaluating investment opportunities; identifying and selecting funding sources; marketing; customer service; and making the best use of available space
To participate in the RDP, an intensive selection process identifies those retailers with an 'entrepreneurial mindset' and who are growth-driven. Participating retailers are based in locations where training opportunities are scarce.
"The knowledge and skills obtained from RDP are shared by the participating retailers with their employees and family members involved in the business, ensuring that learnings have a multiple effect within communities and that the successes yielded are increased and sustainable."
A monitoring and evaluation process of each retailer's business performance over the next 12 months will determine the real impact the RDP had.
AB InBev will roll the RDP out to additional retailers across South Africa, Tanzania and Ghana and across other key AB InBev African markets in 2019.
Based on similar programmes run by AB InBev across the world, in particular, Latin America, results indicate that retailers report increased sales and profits as a result of implementing the RDP-type learnings within their businesses.
"We will continue walking the journey with our retailers, complementing the training they have received to ensure that they are well-equipped to build flourishing businesses," said Hauxwell.
Business Essentials is Africa's premium networking and business directory.
Read more from our Press Room:
____
How To Choose The Right Corporate Gift Supplier
____
Printing SA Provides Skills to the Printing and Packaging Sector
____
How To Go About a Home Loan If You're Self-Employed
---
Related Articles:
Why Millennials are Losing Their Hair
0 comment(s)
---
Removing Vulnerability in Residential and Commercial Estate Management
0 comment(s)
---
What Employers Need to Know About Hearsay Evidence
0 comment(s)
---
Unpacking the BEE Management Tool
0 comment(s)
---
IBA Group Opened a Digital Twin Laboratory
0 comment(s)
---