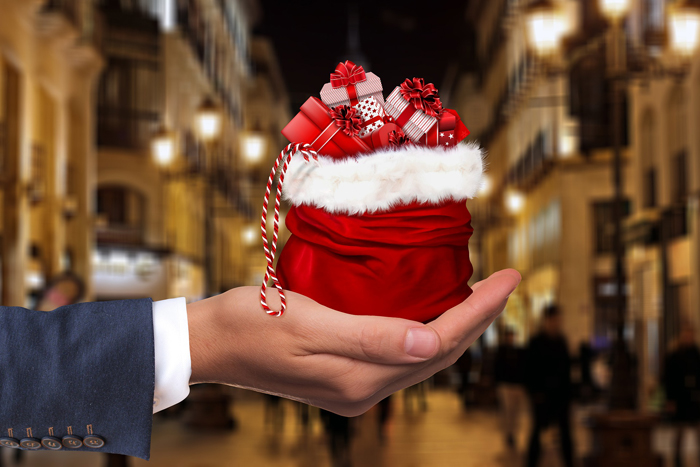 Silly season is officially here.
On November first, Christmas campaigns exploded everywhere. Mr. Price was amongst the first of the bunch to kickstart the silly season with a Christmas pop-up store in Sandton City, which was clever but what about e-commerce?
This time of year, shopping centres are insanely busy, full of tacky campaigns and last-minute shoppers spreading their frenzy from shop to shop. It becomes unpleasant, which is why we predict online shopping will play a massive role this festive season, Adobe also predicts e-commerce will generate an additional 27.2% of revenue – and the leading brands know it.
Social networks and big brands like Amazon are ready for the holidays – starting off with Thanksgiving followed by Black Friday, Cyber Monday and then the big one, Christmas.
Have a look at these trends and examples to see what you could adapt for your own brand.
AMAZON
Amazon simply knows how to play their cards right. Whilst most online retailers were bulking up on delivery guys so that they could keep their promise of a 2-day delivery, Amazon went one step further. To ensure shoppers chose them for Christmas shopping, They promised Prime members not just same-day delivery but also a 2-Hour delivery on certain items – plus all U.S. shoppers get FREE shipping for a "limited time".
Now that's how you do retail.
UK AND GLOBAL SHOPPING
In the UK most shoppers go to their favourite social platforms to essentially "window shop" so retail brands with active Instagram profiles benefit from this massively.
Instagram has various product features available for posts and Insta-stories that allow potential customers to check out a product, their price, similar products and immediately buy them right there and then.
Facebook has a similar feature that allows shoppers to shop through the retail brand's page, converting sales rather quickly as there are few barriers to purchase. Check out the Facebook store app.
Globally, 71% of shoppers use mobile apps to shop, so brands like Superbalist and Takealot.com have the upper hand as they've got various departments to cater for different gifting needs.
We recommend partnering up with these brands by either offering a sale, discount code or an alternative campaign that will keep your products top of mind.
SOCIAL MEDIA & CHRISTMAS SHOPPING
In 2017, Pinterest introduced a feature called "Shop the Look" that allows pinners to shop for similar products online or the exact product with "Buyable Pins". We all know Pinterest is a hot-spot for Christmas ideas so a Woolies or Mr. Price home brand would thrive here using promoted pins featuring beautiful Christmas décor.
Pinterest also partnered up with major retailers like Macy's to create a 'global gift experience' where users can shake their phones to receive personalised gift ideas.
Locally, Snapchat isn't king. South Africans tend to use it more as a filtered camera rather than a social platform but it still holds relevance – particularly for its new AR shopping. This interactive shopping feature already holds impressive engagement rates and you guessed it – increased sales. Adidas recently partnered up with SC to pre-release a new sneaker and according to Adweek, stocks sold out in 6 hours.
Saks Fifth Avenue, a department store in the US, is using Facebook Messenger to help their customers decide what Christmas gifts to buy for their loved ones by asking them a few questions about the individual. The store then suggests their most relevant products to these shoppers.
MARKETING YOUR BRAND
The festive season is the best time to let your brand be a little bolder so don't be too diplomatic and scared about embracing "Christmas" as it's become more cultural than religious.
It's the silly season because a huge part of the nation is taking part in the holiday.
And we know because we have clients that are saying "but not everyone celebrates Christmas so we need to be mindful" but if you're trying to market your products as gifts, the only people who will buy it as gifts are those celebrating Christmas. Let's be real.
Nobody likes lukewarm so tap into those fuzzy Christmas feelings instead of sitting on the fence and create an amazing campaign that will truly set the tone for a prosperous 2019!
Business Essentials is Africa's premium networking and business directory.
Read more from our Press Room:
____
How To Protect Yourself When Shopping Online
____
Two Sides Reports Global Anti-Greenwash Success
____
---
Related Articles:
Embrace AI to Remain Competitive in the Digital Business Environment
0 comment(s)
---
Restless Leg Syndrome
0 comment(s)
---
How Can I Wipe My Credit Clean?
0 comment(s)
---
The Smart Money is on Local Tech, Especially for 4IR
0 comment(s)
---
TUHF Secures R700 Million Nod from Standard Bank
0 comment(s)
---