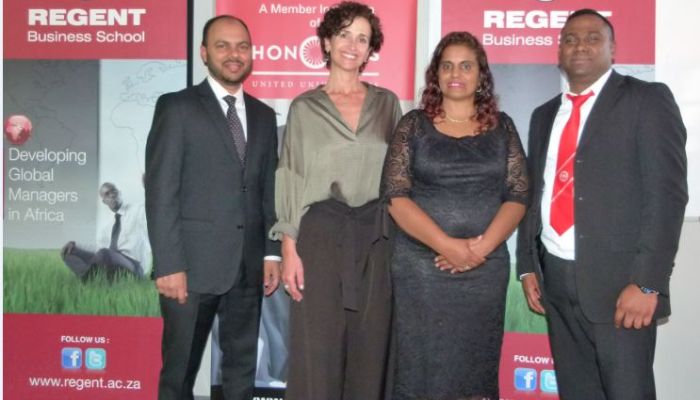 Dr. Ahmed Shaikh, Managing Director at REGENT Business School, facilitated the event by presenting a "futuristic" talk on Industry 4.0 and its Impact on Human Resource Management in today's digital economy that is increasingly characterised by the merging of the physical, digital and biological worlds across various local and global platforms. The key concepts explored in Industry 4.0 were ITERATION, INNOVATION AND DISRUPTION which is changing that way the Human Capital functions across ever-changing organisations. Dr Shaikh reiterated how the relationship of Human Labour and Production will vary inversely in the Industry 4.0 era.
The need for socially and environmentally aware, financially astute, adaptable and mobile mindsets is a key prerogative to the understanding and working with the numerous advances across the digital platforms today and the near foreseeable but rather unpredictable future.
Ms. Jackie Launder, Executive Partner at the Mindcor Group, shared her views about how Top talent brings extraordinary business performance to various organisations. She further discussed the challenges faced by a rapidly evolving Talent Continuum that requires radical interventions in order to keep people relevant in the 21st Century. She highlighted the need for specialised skills such as Big Data Analysis, Specialised Sales Representatives and a "New" type of Transformational Senior Manager and Leader.  Further, she engaged the audience on the many jobs which may become redundant and the emergence of new types of work and work-environments, stressing here that all people need to educate and keep themselves fully abreast of the changing world of work.
The 4th Industrial Revolution is a "wake-up" call to all Universities, Business Schools and Organisations of Learning and development to conceptualise and design curricula that incorporates Industry 4.0, that will see graduates released to the market ready and relevant to tackle the new world of work.
REGENT Business School has taken the lead by piloting the "iLead" Employability Unit to its programmes and integrated offerings. The "iLead" Employability Unit is an initiative that seeks to create work readiness and enhancement programmes fit for purpose for all graduates, current employees, and unemployed persons. Dr. Shaikh concluded by illustrating the positive yet challenging implications of industry 4.0 and the opportunities which may emanate.
Dr. Shamila Singh, an industry expert on Human Capital Strategy and Standards, revealed the "Impact of People Development on Human Capital Practices". She spoke about different technologies and its subsequent collaboration with People in the advancement of Futuristic work designs and profiles. Man and Machine Synergies create immense opportunities for careers which have not been ventured into before.  This has brought new products and services with increased efficiency for a better life. She reiterated that the 4th Industrial Revolution is disruptive and affects everything.
The REGENT Business School 4th Industrial HR Revolution SPONSORED Masterclass revealed various skills that are becoming obsolete whilst uncovering larger varied demands for new ones.
The question remains, are we ready to survive and thrive in this world of artificial intelligence fused with every DNA of human existence?
Follow us on our various social media platforms for the next REGENT Business School event taking place at a venue near you.
Please contact Mr. Desire Ndengu on the details below for future Masterclasses and additional information: Email: recruitjhb2@regent.ac.za | Tel: 011 482 1404
2019 REGISTRATIONS NOW OPEN!!
Visit: www.regent.ac.za for more information.
Business Essentials is Africa's premium networking and business directory.
Read more from our Press Room:
____
Townhouse Living In A Perfect Position
____
EnviroServ Invests in Local Communities by Upskilling Youth
____
ExecuJet Malaysia Receives FAA Approval
---
Related Articles:
The Africa Continental Free Trade Area Protocol on Investment: A Prickly Pear for SADC and other Regional Economic Communities
0 comment(s)
---
In a Post Covid-World, the Africa Continental Free Trade Area could not come soon enough
0 comment(s)
---
How the Environment Affects Your Health, and What You can do About It
0 comment(s)
---
Resilience is Critical for Business Success in Our Post-COVID-19 Future
0 comment(s)
---
Are You Ready for the 4IR?
0 comment(s)
---