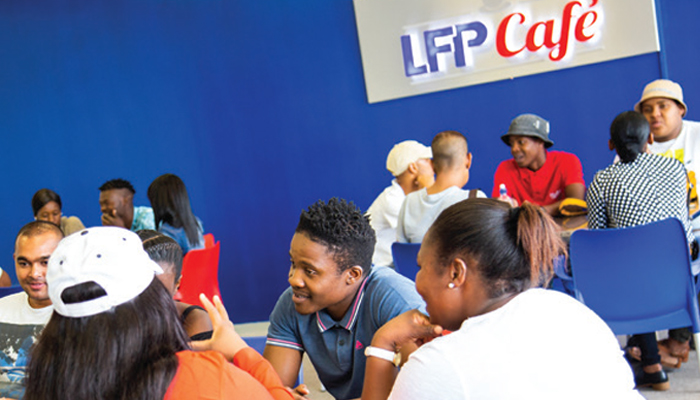 "flexible in our approach"
A lot has changed since we first opened our doors. Our service offering has evolved to bring you more than just Skills Development solutions in-line with the BEE Codes of Good Conduct.
The LFP Group prides itself on being Agents of Transformation. We are evoking conversation and we have big goals. We are flexible in our approach and we can customise our offerings – whenever and wherever needed, whilst keeping legalisation and your objectives top-of-mind.
While we still strongly believe that Skills Development is still the most crucial and impactful element on the scorecard, we understand that this does not operate in isolation.
We recently launched our LFP lifestyle magazine which is available on our website. While the subject of BEE remains complex, we want to bring to life the human element behind it.
The magazine is the perfect platform to introduce companies to our team and to remind you that you form a crucial part of the LFP family. As our Group CEO, Louis Pulzone says 'When you join LFP, you join a family'. As such, we promise dedicated service, reliability and a legally compliant, transparent service offering.
With so much on the go and many new developments taking place in just 2019 alone, Louis Pulzone spoke to the Financial Mail (ABC of BEE) regarding the company's next move. "We offer a turnkey solution and beyond our accredited learnerships and BEE consulting services, we introduced recruitment and permanent placement services, outsourced payroll solutions, BEE-Connex and YES program implementation. These have all been well-received by the market and the teams behind it are passionate about making these a big success".
In addition to the BEE-Connex app which offers clients access to the largest database of B-BBEE suppliers in the country, LFP has launched SA's only free BEE Manager Tool. "This user-friendly service allows you to analyse your company's scorecard, calculate your current points and plan your company's BEE requirements going forward" says Louis.
Backing some of South Africa's most-loved rugby teams, Louis says that the company's sponsorship of the Cell C Sharks, Vodacom Blue Bulls and DHL Stormers will continue. "We are so passionate about backing SA talent and sponsoring these teams once again cements our commitment to these key regions".
Every action counts towards creating the country that we can be proud of.
Business Essentials is Africa's premium networking and business directory.
Read more from our Pressroom:
____
The Carbon Tax Is Coming, And SA Business Is Not Ready
____
Bad Habits That Could Ruin Your Home
____
---
Related Articles:
(Re)conceptualising Education to Bridge the Digital Divide For Innovation and Employability
0 comment(s)
---
BetaTrac Telematic Solutions Announces a New Product Launch
0 comment(s)
---
Bonitas Annual Results 2018 – Good Vital Signs
0 comment(s)
---
How Long Do You Have to Wait After Drinking Before Driving?
0 comment(s)
---
How The Consumer Protection ACT (CPA) Reduces The Imbalance Between Contracting Parties
0 comment(s)
---