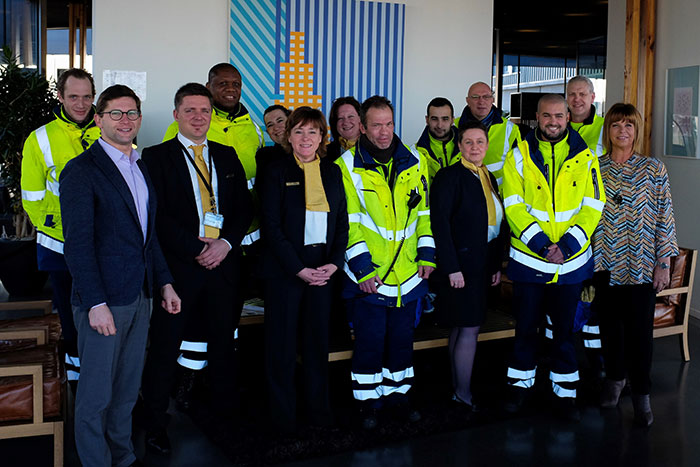 ExecuJet, part of the Luxaviation Group, is proud to announce that its Brussels FBO has gained the International Standard for Business Aircraft Handling (IS-BAH) Stage II accreditation
The FBO, located at Brussels International Airport just 10km from the city centre, features two VVIP passenger lounges, three meeting rooms, and full crew facilities.
An-Céline Claes, Brussels FBO Handling & Protocol Manager, ExecuJet, says: "After being the first facility to achieve IS-BAH status in Belgium in 2017, we are extremely proud to mark this next stage of our development. The Stage II accreditation is a testament to our team's dedication to maintaining the highest levels of safety and service, particularly in the key areas of customer care and safety management. We look forward to further demonstrating our extensive capabilities and above-and-beyond service to all our customers in Brussels."
Ettore Poggi, Group FBO Director, Luxaviation Group, adds: "The announcement that our Brussels FBO has achieved IS-BAH Stage II is a tremendous achievement for ExecuJet. Of the ten IS-BAH certified FBOs in our global network, Brussels is the fourth facility to have progressed to Stage II, demonstrating the strength of our global network."
IS-BAH is a joint programme between IBAC and the National Air Transportation Association (NATA).
Business Essentials is Africa's premium networking and business directory.
Read more from our Pressroom:
____
Corporate Wellness and Gamification: What's Your Strategy?
____
____
Insights into Genetic Testing for Optimum Wellbeing
---
Related Articles:
(Re)conceptualising Education to Bridge the Digital Divide For Innovation and Employability
0 comment(s)
---
BetaTrac Telematic Solutions Announces a New Product Launch
0 comment(s)
---
Bonitas Annual Results 2018 – Good Vital Signs
0 comment(s)
---
How Long Do You Have to Wait After Drinking Before Driving?
0 comment(s)
---
How The Consumer Protection ACT (CPA) Reduces The Imbalance Between Contracting Parties
0 comment(s)
---