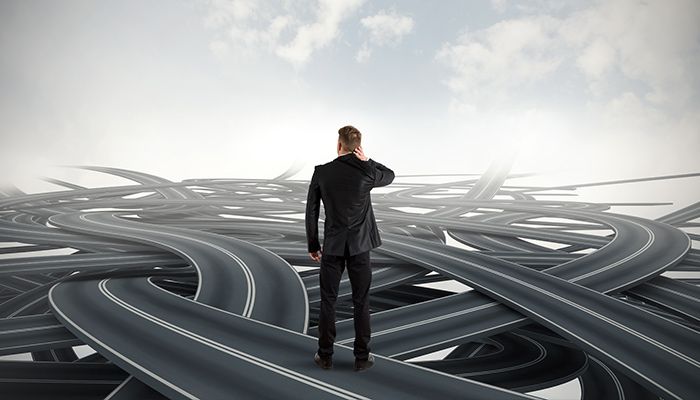 "Growth through pain is a cliché, but it's also true"
As much as we love smooth waters, a well-known proverb states that smooth waters do not make skilful sailors. In this journey called life, the question is not, "Will storms arise?" Rather, the question is, "When will the next storm arise?" And even more important than that question is, "What type of person will I be when the next storm arises?"
Growth through pain is a cliché, but it's also true. It's a tough fact of life that we don't learn much about ourselves or our character in good times. We can't fully discover our strengths and shortcomings without being tested by adversity. How we deal with it, or how we learn to deal with it, is central to who we are – and how credible we can be in leadership roles. In bad times, all eyes are on the leader. How you behave has a tremendous impact on your people.
When people are under prolonged periods of stress and strain, predictable and bad things happen. They can become increasingly wary, and tend to interpret each new sign as an indication of more bad things to come. Negative emotions run high and people are more likely to bark at each other and openly display frustration. They become sceptical of the new and the different, and are prone to reject it out of hand. As the stress continues, fatigue sets in and they become even more pessimistic about the future.
Let's have a closer look at how leaders rise above the rest during tough times:
Self-management
Naturally, managing the task and managing your people are essential to success in any circumstances; but in tough times, the self-management dimension is critical. You're in the spotlight even more now. You set the tone. If you are positive, confident, and optimistic, your people are likely to behave in the same way. If you display focus and determination, they are likely to follow suit. In stressful circumstances, you need to manage your behaviour to bring about greater optimism and more effective action from your people, and help them manage their own attitudes and behaviours towards appropriate outcomes.
Reframe the situation
Leaders often need to help their team reframe their current situations, and see things in a different light. This is important: the conditions that conspire to present you with your current set of choices are not always under your control, but the way you respond to them is. Holocaust survivor Viktor Frankl's book Man's Search for Meaning describes the experiences that helped him develop these insights, and illustrates this concept quite effectively. Being a neuroscientist and psychiatrist, Frankl was intrigued by the puzzle of what makes some people resilient and what causes others in similar life-threatening circumstances to succumb. His observation was that, although people in the camps were deprived of choice in all aspects of their lives, those who retained the human dignity of choosing how to respond were more likely to survive. When we change how we think (often leading to the insight that we in fact do have options), we're preparing to change how we respond and behave. The clear lesson is that how we choose to respond to a situation allows us to transcend even the worst of circumstances. Framing the challenges people face as developmental opportunities can often help redefine their emotional experience. While few people would wish to go through boot camp again, most recognise the benefit of that challenge.
Emotional intelligence
There is a growing need for leaders with strong emotional intelligence. Low self-awareness is clearly counterproductive when it comes to effective leaders. In addition, no leader is good for all situations. Everybody has personal strengths and weaknesses. So when uncertainty is the only certainty, it is important to select a leader with a very good understanding of their own limitations so they know when to back their own judgement and when to seek counsel.
Leaders who do well in the social skills element of emotional intelligence are great communicators. They're just as open to hearing bad news as good news, and they're expert at getting their team to support them and be excited about a new project. Leaders who have good social skills are also good at managing change and resolving conflicts diplomatically. They're rarely satisfied with leaving things as they are, but they don't sit back and make everyone else do the work: they set an example with their own behaviour.
You've been there before
Great leaders know that one of the most effective ways to maintain composure during difficult times is to act like you have been there before. Leaders that act to show they have been through the problem solving process numerous times before are those with strong executive presence who approach the matter at hand with a sense of elegance and grace. They are patient, they are active listeners, and they will genuinely take a compassionate approach to ease the hardships that anyone else is experiencing. It's easy to lose composure during times of crisis and change if you let concern turn into worry and worry turn into fear. By maintaining composure, the best leaders remain calm, cool and in control – enabling them to step back, critically evaluate the cards that they have been dealt and face problems head-on. A show of composure also puts those you lead at ease and creates a safe and secure workplace culture where no one needs to panic in the face of adversity.
Maurice Kerrigan Africa offers the training you need to optimise your performance and leadership skills by managing your own and others' emotions.
You might be interested in the following:
The Authentic Leader-Manager – Making the extraordinary happen
Self-Leadership and Self-Management – Be all you can be!
Personal Mastery & Emotional Intelligence – Mastering yourself and your relationships with others
Personality Styles Workshop – Equipping you with a finer ability to identify and develop sustainable relationships
To find out more about the training courses offered by Maurice Kerrigan Africa or to arrange an appointment, simply call +27 11 794 1251 or email info@mauricekerrigan.com.
Business Essentials is Africa's premium networking and business directory.
Read more from our Pressroom:
____
5 Tips to Reduce Staff Turnover
____
____
Freelancers & Flexibility: The Rise Of The Gig Economy
---
Related Articles:
(Re)conceptualising Education to Bridge the Digital Divide For Innovation and Employability
0 comment(s)
---
BetaTrac Telematic Solutions Announces a New Product Launch
0 comment(s)
---
Bonitas Annual Results 2018 – Good Vital Signs
0 comment(s)
---
How Long Do You Have to Wait After Drinking Before Driving?
0 comment(s)
---
How The Consumer Protection ACT (CPA) Reduces The Imbalance Between Contracting Parties
0 comment(s)
---