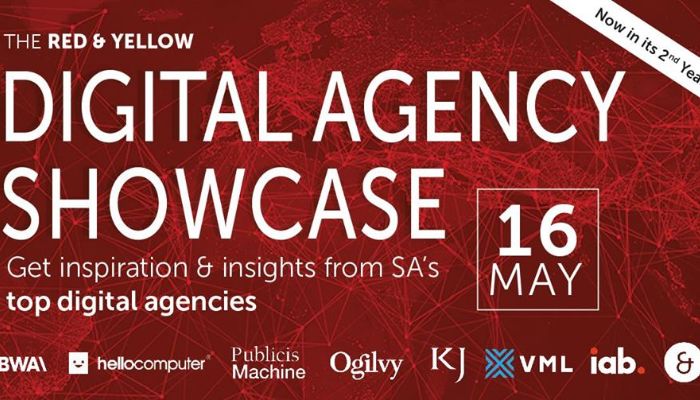 One day. Six leading digital agencies. One room.
With ever-increasing competition and ceaseless advancements in technology, it's crucial that corporates (brands) stay on top of marketing to digital consumers. And what better way than to learn first-hand from SA's 6 top digital agencies at this annual conference.
The tremendous success of Red & Yellow's inaugural Digital Agency Showcase last year proved that ambitious marketing and brand professionals are hungry to learn and grow.
With much excitement, shared by repeat-partner IAB SA, Red & Yellow is hosting the second Digital Agency Showcase on Thursday 16 May 2019 at their campus in Salt River,  Cape Town.
King James, VML, Publics Machine, Hellocomputer, TBWA Hunt Lacaris and Ogilvy are on the line-up this year. They each have 45-minute slots to share their advice and insights on the industry and discuss issues such as the value of agency-brand relationships and pushing aside conventions, how brands are adapting to new technology, different forms of marketing and new ways of existing in the digital space. Each session is followed by 15-minutes  of Q&A session to allow the audience to delve deeper.
Initiatives like these play an important strategic role in delivering on Red & Yellow's founding purpose: making lifelong learning accessible to all in myriad ways and driving deep connections between education and industry.
"The aim of the Showcase is to share insights, wisdom and innovations in the industry with local businesses, entrepreneurs the marketing community, and friends of the industry. This event speaks directly to the IAB's mission to create smart, actionable insights to make better digital decisions, and we're thrilled to partner for a second year with Red & Yellow at this incredible event", says Paula Hulley, CEO of the IAB South Africa.
Details
Guests are encouraged to arrive early, at 08:00, for some coffee and networking. The event runs from 9am until 5:30pm, followed by sunset drinks at the rooftop bar.
The first 50 seats have been nabbed by the early birds, but  there are still some tickets available at reasonable prices:
VIP status: R950 ensures that 40 important delegates are accorded the respect and status they deserve with front-row seating, unlimited food and drinks throughout the event, and undercover parking.
Premium: R250
Tickets can be purchased from Quicket. For more information visit our Facebook event.
Business Essentials is Africa's premium networking and business directory.
Read more from our Pressroom:
____
Not Having Medical Aid Can Cost You Dearly
____
Helping Small Business To Thrive For A Better Future
____
Motivating Your People In A Disruptive World
---
Related Articles:
(Re)conceptualising Education to Bridge the Digital Divide For Innovation and Employability
0 comment(s)
---
BetaTrac Telematic Solutions Announces a New Product Launch
0 comment(s)
---
Bonitas Annual Results 2018 – Good Vital Signs
0 comment(s)
---
How Long Do You Have to Wait After Drinking Before Driving?
0 comment(s)
---
How The Consumer Protection ACT (CPA) Reduces The Imbalance Between Contracting Parties
0 comment(s)
---