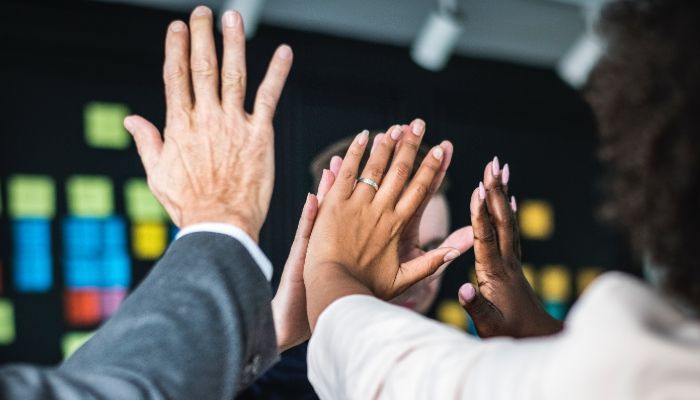 "If you want to go fast, go alone. If you want to go far, go together."
Over the last three decades, doing the right thing has been the very foundation of our values. It's why we're firmly focussed on enriching lives and investing in the communities where we live, work and serve. To us, success means exponentially more when it's something that can be shared with those around us. As a result, giving back is very much part of our DNA as innovation and excellence.
Together, we can make the world a better place
"If you want to go fast, go alone. If you want to go far, go together."
This African proverb embodies the very sentiment that drives our ethos of teamwork, kindness and support. We happen to believe that upholding our values is a responsibility that lies with every member of the Blake family. This is why corporate social responsibility has always been and will always remain something that we are proud to stand for.
Recent Blake initiatives include drives to donate blood with the SANBS at our head office as well as collecting tinned foods and clothing for the CHOC foundation and Voices of PMB. Donation boxes can be seen in all departments, with every team doing their part to contribute to collections. When it comes to supporting a worthy cause, every member of the Blake family rallies together to make the lives of others better. In doing this, our purpose is shared, lived and allowed to improve the world around us.
We also engage in several social welfare programmes across KwaZulu-Natal through our corporate social responsibility policy. This includes the provision of much-needed computers, roof repairs and the upgrading of bathrooms at a local safe house for abused women and children. We're not done yet and our dream of making the world a better place is one we hope to see echoed by other large corporations who have the means to help others.
Doing good extends to our recruitment
People are our greatest investment, so we ensure that we put the time and training into those who deserve the opportunity to improve their lives and communities. At present, we develop and employ an average of 100 unemployed people from such locations every month. This sees us engaging in extensive recruitment and development programmes directed towards previously disadvantaged areas. As a result, fostering the growth of human capital has been a key driver for reaching our milestones. This is evident in our success stories that began from as early as 2009 when our early Learnerships resulted in thousands of disenfranchised youth achieving career progression or skills for the marketplace.
Our customers join us on this journey of purpose and we wouldn't have it any other way. Thanks to their involvement and continued support, we're able to reach even more communities in our bid to provide employment, opportunity and resources. Through this partnership with our customers, we can deliver vital skills to those who deserve a chance at a brighter future. In upskilling our own workforce, we can continue to deliver the performance and exceptional customer service that we're known for.
Our culture reflects our purpose and dreams for the future
Culture is at the very heart of our beliefs, principles and values. It plays a large part in the way we behave toward others, both internally and externally of the Blake family. By driving positive engagements, employee opportunities for advancement, moral communication skills, and total transparency, we advance daily as individuals and as an organisation.
Blake – The leaders in meaningful human connections!
Business Essentials is Africa's premium networking and business directory.
Read more from our Pressroom:
____
Not Having Medical Aid Can Cost You Dearly
____
Helping Small Business To Thrive For A Better Future
____
Motivating Your People In A Disruptive World
---
Related Articles:
What are the Real Benefits of Submitting a PAIA Manual?
0 comment(s)
---
How Long Does Debt Counselling Take?
0 comment(s)
---
The Willard® BLUE Battery Promotion Has a Winner!
0 comment(s)
---
The Development of a Solar Photovoltaic Market in Ghana
0 comment(s)
---
Businesses to be Verified Based on New B-BBEE Code Amendments from 01 December
0 comment(s)
---