agile42
CORPORATE ESSENTIALS
About agile42
---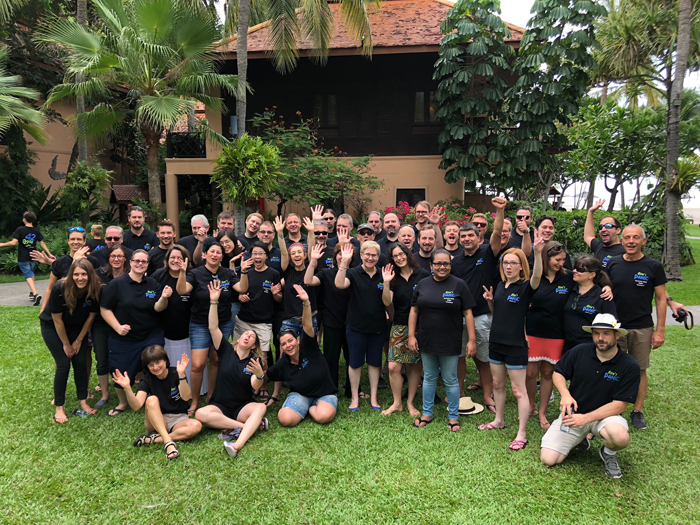 Established in 2007 and headquartered in Berlin, agile42 is a leading international Agile coaching & training organisation. We enjoy a global presence operating in 13 countries across North & South America, Europe, Africa, and Asia. Our international consulting team provides world-class expertise, training and coaching in Lean and Agile methods including Scrum, Cynefin, Systems thinking, Kanban, Strategy and Agile Leadership.
We have a proven approach for managing the adoption of Lean-Agile methods and transforming organizations to achieve better business outcomes. Our customers confirm their ability to deliver measurable results:
Faster time-to-market and responsiveness
Accelerated ROI (Return on Investment)
Higher customer satisfaction
More engaged and motivated employees
And, if you're interested to know "why the '42'?", look to the works of Douglas Adams and his classic book "The Hitchhiker's Guide to the Galaxy"!
Services We Offer
agile42 offer interactive and collaborative Agile training and coaching; we work with organisations, teams & individuals challenging them to achieve better results, increase quality and deliver more customer value.
We have developed a powerful set of consulting products which help our clients achieve measurable outcomes that enhance their business. These include:
ORGANIC agility ™ expresses in a single word the fact that being agile, or becoming more agile, requires a more holistic view of an organization, which goes beyond teams, practices, or frameworks.
The Enterprise Transition Framework ™ providing a way for organisations to map their paths without sacrificing the emergent nature that is foundational to agility
The Team Coaching Framework ™ to foster the growth of internal coaches at our clients, enabling them to become self-sufficient faster.
Our passion
We are passionate about supporting organizations with their Agile Transition in order to become more resilient and better prepared for a changing world.
How we help
At agile42, we have found that training people serves well to align conceptual vocabulary that enables new discussions surrounding business agility. We help your organisation and its people to learn to problem-solve using Agile and Lean techniques, rather than using a consulting approach in which we provide mere expert answers (absent the "why").
We help organizations learn how to challenge their status quo and deliver value to their clients, by establishing a culture of continuous improvement. While we do possess deep expertise and experience in the application of Lean and Agile approaches, our experience has shown that lasting change results only from a deep understanding and application of principles by the people who do the work within a supportive context provided by their leaders. To this end, we work together with individuals, teams, and leadership to find better ways of working together with a common purpose, to achieve your desired improvements now and in the future.
agile42 – The Agile Coaching Company ~ we make your agile transition succeed.