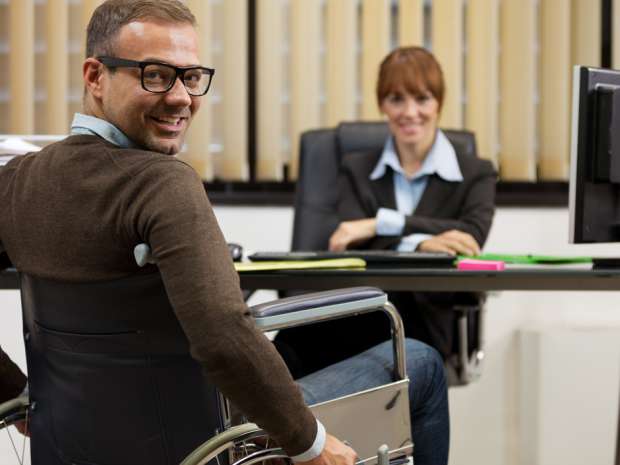 Often I hear these words from employers:  "I cannot treat employees with disabilities any different from my other employees…it would be unfair."  Actually, it would be unfair NOT to…My clients (employees with disabilities) enter the workplace from a disadvantaged position;  whether it is the inability to use the toilet facilities independently because there are no grab rails, or the inability to produce normative outputs due to the debilitating effect of anxiety, they do not commence their work day at the same starting line as their colleagues without the same disabilities.  As an employer who commits to disability employment (for increased BEE ratings, social investment or whatever other reasons), you also commit to learning and understanding your role in advantaging your employee to the point where they can work and compete on an equal footing with their colleagues.
Is it fair to expect the same productivity within the same time frame from an employee who uses the only wheelchair-accessible toilet on the ground floor, by waiting for an often dysfunctional lift on the second floor, and an employee who walks to the closest accessible toilet on the floor where he works?  No.  For these two employees to perform the exact same job, they each need the comfort of accessible toilet facilities at their place of work.  For the former, that means a break of 15 to 20 minutes whenever he needs to use the bathroom, and for the latter it means a break of 5 minutes.  But their desired productivity output for the day is exactly the same?
So let's assume that productivity targets are not negotiable (in fact, in my experience with employers, they rarely are), how do you create an equal opportunity for the above two employees to achieve those targets, when the one can walk and the other one cannot (and some of the implications of being in a wheelchair have just been mentioned)?  There are so many ways:  moving the wheelchair-user's office to the ground floor;  spending money to fix the lift; allowing work to be done from home;  more flexible working hours;  etcetera, etcetera.  The point is:  by choosing any of these solutions, you are not being unfair towards your employees who can walk, you are being fair towards your employee who cannot walk…and having committed to employing the right person for the job, who just so happens to have a disability, you have also committed to doing what is necessary to level the playing field for this employee, by removing the obstacles from his environment that will prevent him from achieving his targets.  The employee who can walk didn't have these obstacles to begin with.
Different disabilities require different accommodations in the workplace, and it is true that some impairments can prove intricate to accommodate (like the employee that I mentioned before who may have a psychiatric illness that renders him highly vulnerable to the effects of stress).  Removing obstacles for this (qualified) employee is still not unfair towards his colleagues, even though those obstacles may not be as tangible or concrete as the ones mentioned above.
That is why it is so important for employers of people with disabilities to commit to learning about, understanding and respecting the accommodation needs of their employees with disabilities, and as such prevent their companies from inadvertently disabling the employee in the performance of their job.
By Madri Engelbrecht, Director, Altitude Supported Employment Pty(Ltd)
_________________________________________________________________________________________________________
The Altitude Group is a National group of 4 companies providing a range of innovative HR and IR solutions with specific focus on seeking and providing employment for people with disabilities, both within the group as well as for a multitude of our clients.
_________________________________________________________________________________________________________
RELATED ARTICLES
Giving People With Disabilities A Working Start
Workplace Readiness is a Critical Step to Successful Skills Development
Progression's 5th Annual Disability Conference
Beyond B-BBEE compliance – affecting real change
---
Related Articles:
Coal-driven Power Train is Running Out of Steam
0 comment(s)
---
How to Avoid Overspending this Festive Season
0 comment(s)
---
DHL Expands Africa eShop Online Shopping Application to 34 Countries Across Sub Saharan Africa
0 comment(s)
---
LFP Group Applauds President's Call for Private Sector to Upscale its B-BBEE Agenda
0 comment(s)
---
The Evolution of Marketing - What will the Future Look Like?
0 comment(s)
---