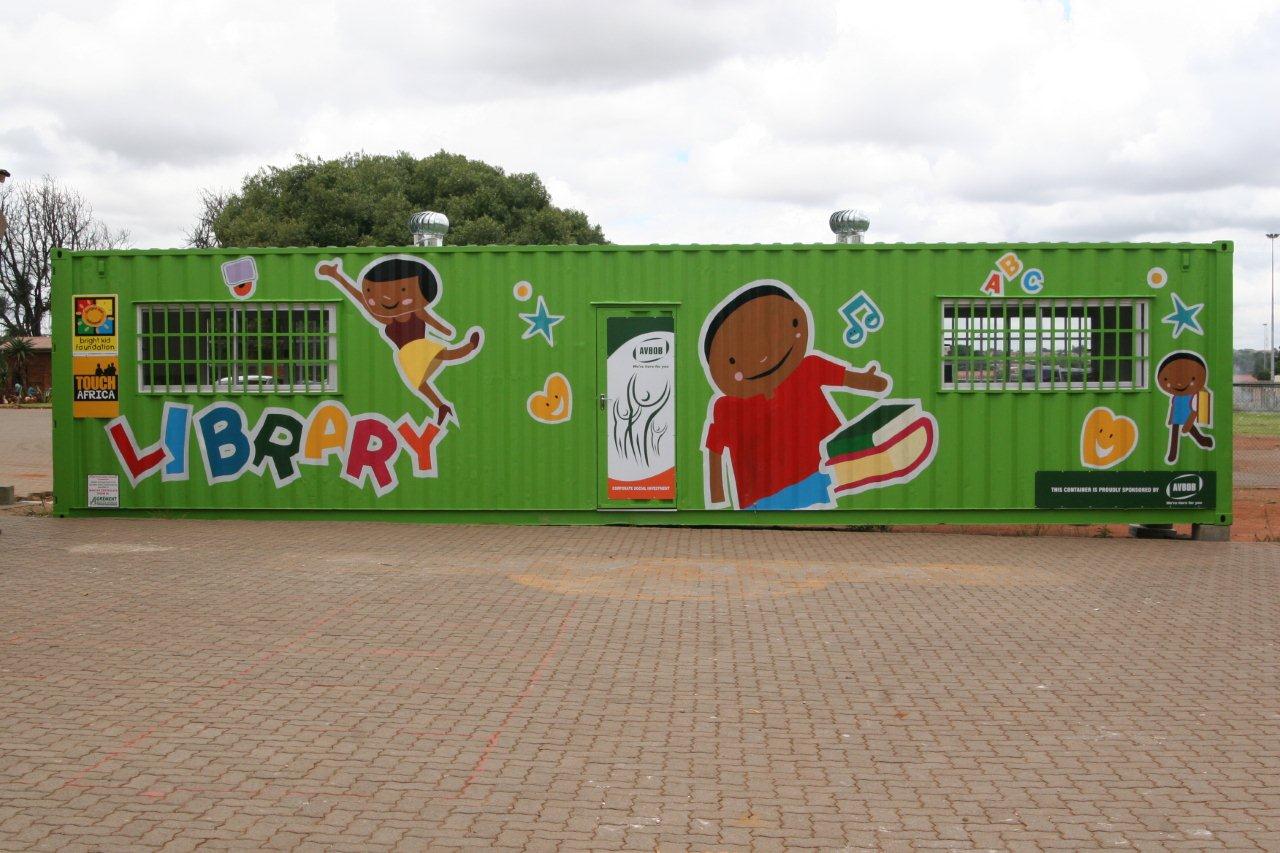 The AVBOB Foundation donated its 36th Container Library to Izingolweni Primary School in Izingolweni, Port Shepstone, on 25 October 2016. The school has received a colourful  AVBOB container library worth R350 000 that is stocked up with ±2500 books from the AVBOB Foundation. AVBOB is dedicated and committed to developing literacy and numeracy skills in our schools.
The official opening ceremony was celebrated by executive members of AVBOB, the learners and educators of the schools, officials from the provincial Department of Basic Education, and community members. Mrs Mthethwa, the school's principal gratefully accepted the donation; "We are all so excited! The learners will now gain a wealth of knowledge as information is readily available," she said. Mrs Mathetwa continued to mention that "The only gift that could measure up the amount of joy they were feeling was a "Certificate of appreciation" that was presented to Mr Frik Rademan the Chief Executive Officer (CEO)" on the day. Mrs Zama the deputy principal, also shared in the jubilation as she is excited by the great gesture from AVBOB, and that the learners and community members were overjoyed.
Mr Rademan believes that this project will give a much needed boost to the literacy levels of the learners. "There is no doubt in my mind that great leaders will be emerging from this school and community in future," he said. "To develop such young talent however, requires vast resources and this library will be well utilised by the learners of Izingolweni Primary School, it will inspire them to develop a culture of reading and to apply their newly acquired knowledge and skills in carving their bright futures." Lastly, Mr Rademan sent a special message to the learners stating that "they can achieve whatever they set their minds to and to believe that they are good enough for anything."
The AVBOB Container Library project – which is the Foundation's flagship project – was launched in 2013 and to date, 36 fully equipped libraries have been donated to schools in disadvantaged communities throughout South Africa. AVBOB constructs the libraries from refurbished shipping containers through their AVBOB Industries division, and manage the process of painting and fitting them with wooden laminated floors, shelving, a chalkboard, tables and chairs. The libraries are also fitted with solar PV systems, which give the libraries the capability to power up LED lights, any computer or projector being used in the libraries or to even recharge cell phone or laptop batteries.
Thus far, the AVBOB Foundation has donated container libraries to schools all over the country, spending well over R12 million in the undertaking. The launch of container libraries has become an important milestone for AVBOB and will remain so for years to come.
________________________________________________________________________________________________________
RELATED ARTICLES
Companies' social involvement must go beyond ad hoc charity
Ethical companies better positioned to win war for talent
Spotlight on Clover Mama Afrika Mamas | International Day of Rural Women
---
Related Articles:
Coal-driven Power Train is Running Out of Steam
0 comment(s)
---
How to Avoid Overspending this Festive Season
0 comment(s)
---
DHL Expands Africa eShop Online Shopping Application to 34 Countries Across Sub Saharan Africa
0 comment(s)
---
LFP Group Applauds President's Call for Private Sector to Upscale its B-BBEE Agenda
0 comment(s)
---
The Evolution of Marketing - What will the Future Look Like?
0 comment(s)
---