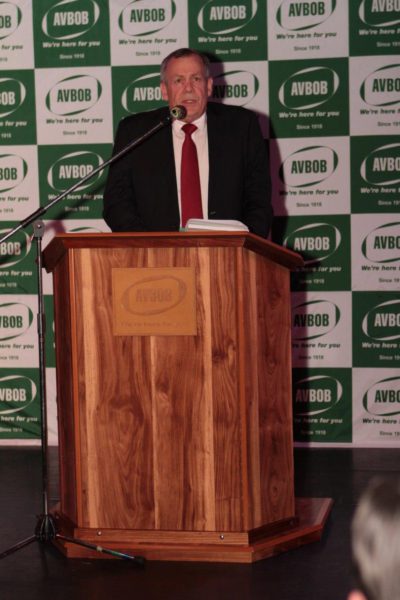 AVBOB Mutual Assurance Society announced that following the declaration of a fourth special bonus of R1,0 billion on 1 July 2016, a further R2,0 billion has been reserved to benefit policyholder benefits in the form of special bonuses and improved FREE funeral benefits.
This announcement was made during AVBOB's Annual General Meeting which took place on 17 November 2016 when the Society's financial results for the 2015/2016 financial year were presented. Mr Frik Rademan, AVBOB's Chief Executive Officer announced that a net income of R2,6 billion before tax and the improvement of policyholder benefits were achieved.
"In this our 98th year, the AVBOB Group produced a strong set of results in a challenging economic environment. The Society performed exceptionally well, growing net new business by 7,5%. Over the five-year strategic planning period which ended 30 June 2016, the Society grew its net new business by a remarkable 121,0%. The resilience of the product offering, our one-stop service and the expansion of our insurance and funeral footprint supported this growth. This success allowed the Group to expand its workforce by 58,5% over this five-year period," Rademan said.
He accentuated their mutual status as the key differentiator that sets it apart from their competitors as ultimately all profits are for the benefit of policyholders. "Putting the needs of our policyholders first is a value that has been passed from generation to generation and is what gives us an advantage. We therefore base our capital management and strategic decisions in terms of our mutual status."
According to Rademan, AVBOB has consistently distributed surplus profits to its policyholders in the form of special bonuses and improved free funeral benefits. The R2,0 billion which was reserved for policyholders brought the aggregate over the past nine years to R 6,5 billion.
As part of the R1,0 billion declared on 1 July 2016, AVBOB also introduced a new benefit. Policyholders who are retrenched may utilise the special bonus to fund their premiums for six months. In addition to the aforementioned, AVBOB's current FREE basic funeral benefits include, over and above the value of the policy:
A FREE basic funeral (burial or cremation) valued at R9 600 for funeral policies which have been in force for two years or longer whilst policies younger than two years qualify for a discount of up to R4000 on a funeral (burial or cremation)
A R1 000 upfront cash payment to assist with incidental funeral expenses.
FREE transportation of the deceased to anywhere within the borders of South Africa which applies to all policies older than 6 months.
These benefits only apply if AVBOB Funeral Service conducts the funeral.
"As the Society nears its centennial celebrations in 2018, we are considering how the Group can further share our success with our policyholders and the communities we serve. This is an opportunity for us to further differentiate ourselves by demonstrating the benefits of being a mutual society," Rademan concluded.
SOME HIGHLIGHTS FROM THE 2015/2016 FINANCIAL YEAR
·       Premium income increased by 17,3% to R2,7 billion.
·       An amount of R2,0 billion was allocated for future enhancement of policyholder benefits.
·       In keeping with our performance-based remuneration strategy, the first allocation of long-term incentive plan units has vested and will be paid to participants in November 2016.
·       The workforce increased by 8,4%.
·       For October 2015 a record number of 41 570 new policies were issued.
·       AVBOB was voted the winner of two major awards: The Financial Funeral Cover Category Award in the 2015/2016 Icon Brand Survey, and the Funeral Service Provider Award in the Ask Afrika Orange Index Survey.
AVBOB is a MUTUAL, a FAMILY, and FAMILY comes first. Always.
*Terms and conditions apply. AVBOB is an authorised Financial Services Provider. PSP 20656. Funeral benefits only apply if AVBOB Funeral Service conducts the funeral.
---
Related Articles:
The Fourth Industrial Revolution
0 comment(s)
---
The Sun Always Shines on the Sonique Side of Life!
0 comment(s)
---
ContinuitySA Partnership Programme Officially Launches
0 comment(s)
---
Intuition as a Leadership Tool – It's Like Having the World Wide Web in Your Head
0 comment(s)
---
Do You Really Know How Much It Costs to Manage Your Company Travel Manually?
0 comment(s)
---