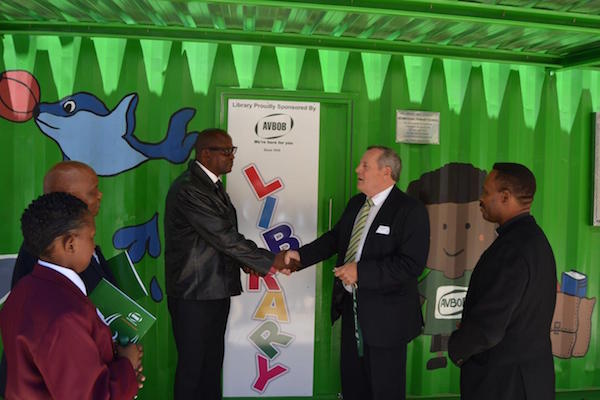 The AVBOB Foundation has donated its 37th AVBOB Container Library to Sedimosang Primary School in Mohlakeng, Randfontein, on 18 January 2017. The school received a colourful container library worth R350 000 that is stocked up with ±2500 books from the AVBOB Foundation. AVBOB is dedicated and committed to developing literacy and numeracy skills in our schools.
The official ceremony was greatly attended by officials from the Department of Basic Education, District and Circuit Managers from the Gauteng Department of Education, learners and educators, as well as community members and the Executive members of AVBOB. Mr Daniel Sekomela, the school principal expressed his excitement for the gracious gift from AVBOB; "this library is a start of better things to come, and it will assist school in building a society of readers". Mr Letlhogonolo Rapuru the School Governing Body Chairperson (SGB) shared that "the library would improve learning and teaching and as well as the quality of education at Sedimosang Primary School"
Mr Rademan believes that this project will give a much-needed boost to the literacy levels of the learners. "There is no doubt in my mind that great leaders will be emerging from this school and community in future," he said. "To develop such young talent however, requires vast resources and this library will be well utilised by the learners of Sedimosang Primary School, it will inspire them to develop a culture of reading and to apply their newly acquired knowledge and skills in carving their bright futures." Lastly, Mr Rademan sent a special message to the learners stating that "they can achieve whatever they set their minds to and to believe that they are good enough for anything."
The AVBOB container library project – which is the Foundation's flagship project – was launched in 2013 and to date, 37 fully equipped libraries have been donated to schools in disadvantaged communities throughout South Africa. AVBOB constructs the libraries from refurbished shipping containers through their AVBOB Industries division, and manage the process of painting and fitting them with wooden laminated floors, shelving, a chalkboard, tables and chairs. The libraries are also fitted with solar PV systems, which give the libraries the capability to power up LED lights, any computer or projector being used in the libraries or to even recharge cell phone or laptop batteries.
Thus far, the AVBOB Foundation has donated container libraries to schools all over the country, spending well over R12 million in the undertaking. The launch of container libraries has become an important milestone for AVBOB and will remain so for years to come.
PROUD SPONSOR OF THE 37th CONTAINER LIBRARY TO
SEDIMOSANG PRIMARY SCHOOL
---
Related Articles:
ContinuitySA Launches Cloud-based Backup and Replication Solution for SMEs
0 comment(s)
---
VeriCred-Growing Together
0 comment(s)
---
Feeding Company Culture Through a Global Crisis
0 comment(s)
---
What's the Quality of Your Ethics Strategy?
0 comment(s)
---
What COVID-19 means for IT
0 comment(s)
---