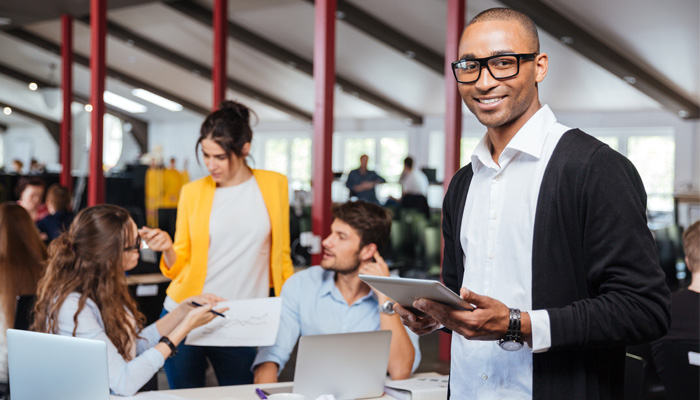 Traditionally, workplace training has taken the form of group learning in a classroom environment. In this scenario, employees are led through the training by a facilitator, and printed material is given to the learners to refer to and study from.
The hard costs of facilitation and course material can be hefty, often creating a barrier between what the employer wants to achieve and what can realistically be gained through this type of training. The costs can also scale up very quickly, relative to how many employees need to be trained.
Compounding this further, is the fact that lecture-style training needs to take place during working hours, which can amount to many hours of productivity lost, causing your businesses to experience downtime and slowed operations at inopportune moments.
This is where e-learning comes in; it takes employee education beyond the classroom and onto the mobile device, where learners can tap into relevant training anytime, anywhere; when it's convenient for both the employee and employer.

E-learning has been developed in such a way that rich, diverse and multi-faceted media components can be created to deliver the learning material in well-structured, logical way.
Not only does it minimise the expenses that are associated with traditional training, it also enhances the learning experience; making the training that much more effective.
Rather than learning in a group, through mobile innovation, individuals can enjoy 'one-on-one' training. The information can also be conveyed in bit-sized chunks – a style called single-concept-learning – that allows the learner to snack on nuggets of relevant information, rather than grappling with reams of text and multiple ideas at one time.
Without being in a group, learners also have the opportunity to digest the content – whether it's course notes, videos or infographics – at their own pace, and can repeat modules, in order to improve understanding. Through this type of approach, the learner retains information far more effectively.
As valuable as e-learning is to the individual, it also gives employers the peace of mind that the training they are investing in is worthwhile.
Through utilising the best in e-learning technology, you not only save time and cut down the cost of training, you also offer your employees a more worthwhile and effective way to learn.
By Dennis Lamberti
Development Director
Media Works
How Digital Disruption is Streamlining Global Supply Chains.
Steps to Ensure Cyber Resilience through Better Cybersecurity.
Stay up to date with you industry news in our Pressroom.
---
Related Articles:
Coal-driven Power Train is Running Out of Steam
0 comment(s)
---
How to Avoid Overspending this Festive Season
0 comment(s)
---
DHL Expands Africa eShop Online Shopping Application to 34 Countries Across Sub Saharan Africa
0 comment(s)
---
LFP Group Applauds President's Call for Private Sector to Upscale its B-BBEE Agenda
0 comment(s)
---
The Evolution of Marketing - What will the Future Look Like?
0 comment(s)
---