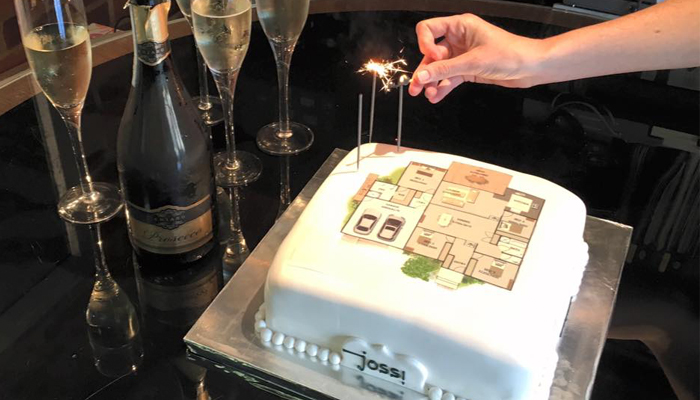 The team celebrated over a decade of beautiful design

On 6th July 2017, Jossi Design celebrated 11 years of creating beautiful, stylish interiors for our valued clients. We could not be more proud of our achievements and the value we have added to people's lives over the last 11 years. e are so grateful to have been given the opportunity to work on such exciting projects.
As stated in the IFI Interiors Declaration in 2011: "As design professionals, our knowledge enables us to form spaces that respond to human needs. These human spaces are the domain of our competence, our passion and our work".
Jossi Design not only focuses on residential projects but also corporate, hospitality and medial interiors. Our clients have given us the freedom to create unique and timeless interiors, and this trust has allowed us to yield fantastic results. Our principal designers,Craig R. Bennett and Jocelyn Jones are lucky enough to have an experienced an enthusiastic team which includes a hands-on project co-ordinator as well as junior designers. Together the team works tirelessly in its mission to achieve internationally current and elegant interiors that are also function and meet our client's individual needs.
The principal designers of Jossi Design aim to contribute to the community the are in. . Jocelyn Jones is the past President of the African Institute of the Interior Design Professions (IID), and Craig R. Bennett has also served on the IID committee as the KZN Regional Head.
The IID is the professional body representing the Interior Design industry in Africa. Jocelyn and Craig worked hard to ensure that the IID not only met the needs of its interior design members, but also served to protect and educate the general public and potential Interior Design clients.
Jocelyn and Craig have dedicated countless hours to the various Interior Design educational institutions within the KZN region such as sponsoring prizes for awards ceremonies, adjudicating and moderating students work as well as  getting involved in community projects. Jocelyn and Craig have also been privileged to act as judges for various design exhibitions and awards such as the Loeries, Decorex and Inspire Trade Expo.
For our 10th birthday Jossi Design underwent a full rebranding, changing our company logo to a more sleek and minimalist black and white logo. The Jossi Design website underwent a renovation to be more visual with its focus on the photos of work we have projected over the years.
As designers we see the world through different eyes, finding inspiration in all aspects of nature as well as science and new technology. It t is only through design that we can truly express ourselves and the individual personalities of our clients.
By Jocelyn Jones
Director, Jossi Design
____
Find out why small businesses and entrepreneurs are vital to the economy.
____
Find out what does the Draft Intellectual Property Policy mean for your business?
____
Want to stay up to date with industry related news? Check out our Pressroom.
---
Related Articles:
The Fourth Industrial Revolution
0 comment(s)
---
The Sun Always Shines on the Sonique Side of Life!
0 comment(s)
---
ContinuitySA Partnership Programme Officially Launches
0 comment(s)
---
Intuition as a Leadership Tool – It's Like Having the World Wide Web in Your Head
0 comment(s)
---
Do You Really Know How Much It Costs to Manage Your Company Travel Manually?
0 comment(s)
---