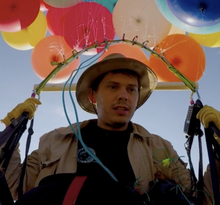 A camping chair and 100 balloons took him 2 000m high
It's truly like a scene out of the movie Up. Tom Morgan, a 38 year-old man from Bristol, England,  decided to blow up 100 balloons and conduct an impressive experiment that was quite daring. The adventurer ended up 2 000 metres in the air while sitting on a camping chair!
Tom runs a company called The Adventurists, and he recently visited Botswana with the plans to start the first-ever competitive helium balloon race in Africa – but the weather in Botswana was bad. "The problem was finding a good weather window and it was difficult to protect the balloons as they kept bursting," he told the BBC.
Tom then moved his crazy experiment to Johannesburg, where the weather was more accommodating for his crazy and unusual experiment. Tom spent two days filling his balloons with just enough helium to elevate him.
On Monday, 23 October he started his great adventure, tying his helium-filled balloons to his camping chair. And off he went.
He described his feelings as "somewhere between terrified and elated."
As he went higher and higher, he realised his balloons were taking him to an atmospheric layer where the temperature drops. "I had to keep my cool and start gradually cutting the balloons," he said.
https://www.facebook.com/TheAdventurists/videos/10155935278348338/ 
After two hours, Tom gradually descended back down to earth by cutting off balloons one by one.
Events Manager of The Adventurists Matthew Dickens said they all couldn't believe that he actually made it. "We weren't even sure Tom would come back alive. We didn't think he was going to manage it but yeah, he got there in the end."
On The Adventurists website, the thrill seekers wrote; "We live to find ways to make the world a bit more difficult. To bring chaos into our over-sanitised lives. To create adventures where you don't know what will happen tomorrow or if you'll even make it to the end."
____
Read all about 'Day Zero' and the water crisis.
____
Read all about the tests being done by Facebook to help businesses.
____
Find out how to survive Black Friday and Cyber Monday.
---
Related Articles:
How Long Does Debt Counselling Take?
0 comment(s)
---
The Willard® BLUE Battery Promotion Has a Winner!
0 comment(s)
---
The Development of a Solar Photovoltaic Market in Ghana
0 comment(s)
---
Businesses to be Verified Based on New B-BBEE Code Amendments from 01 December
0 comment(s)
---
SAP SuccessFactors & Skillsoft
0 comment(s)
---