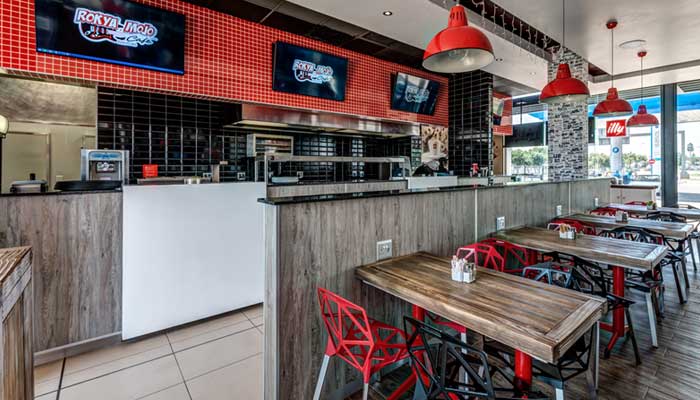 Blackline Retail Interiors share their two minute colour guide
Colour plays a huge role in how we perceive the world. Colours subtly impact how we feel and how we behave. Businesses and brands can – and should – use colour psychology to effectively influence customer behaviour by simply understanding and applying a few key colour tricks and triggers to their interior design scheme.
To help you make sure your corporate interior is giving off the right message, here is the Blackline Retail Interiors two minute guide on to how to use the power of colour in your corporate, retail or hospitality interior design to maximise your business' success.
Use warm colours to boost energy
Reds, oranges, yellows and pinks are all warm colours and are the best for increasing energy. This means warm colours are great for fast-food outlets, kids shops and supermarkets where the objective is to get customers moving through the retail experience, to the till and out the door as fast as possible. Warm colour palettes are also a great choices for young and vibrant advertising and design agencies.
These colours attract attention and as such they are useful for attracting customers to sales and promotions and, when used in window displays and store signage, for attracting feet into your store.
But be aware that too much bold colouring – such as a shop with a red floor, ceiling and walls – can be overpowering and unwelcoming; so use bold, warm colours with care and purpose.
Use cool colours to create calm
Cool colours are calming and soothing; they encourage customers to slow down. This means cool colours are best for retailers who want customers to take their time browsing around the stores.
Clothing boutiques, accessory stores, homeware stores, salons and high-end sit-down restaurants can all benefit from a cool colour scheme. Likewise doctors offices, pharmacies and lawyers offices can be made less stressful places for clients by incorporating cool, calming colour palettes.
Use neutral and achromatic colours to enhance your professional status
Neutral, natural colours are sophisticated, clean, grown-up and relaxing when used well. However, neutral colour schemes can be boring, dull and unmemorable when applied poorly.
Neutral colour schemes are perfect for up-market boutiques and jewellery stores where the curated product range needs to take centre stage. They are also a good choice for outdoor apparel stores, home industries, health stores and craft stores where a 'natural' feeling is required.
Achromatic (black, white and grey 'colourless' colour schemes) are the most sophisticated interior colour scheme you can use – perfect for art galleries, high-end designer goods stores and luxury brands.
Pure black and white colour schemes that are heavy on black can feel a bit stark and unwelcoming, so they may need to be balanced out with softer touches in the form of neutral, warm or cool tone accents, or through the use of textures throughout the design.
If you are looking for help designing an interior for your business that reflects your brand personality, contact the professionals at Blackline Retail Interiors.
____
Read all about Port Elizabeth fashion designer reaches a 'Malstone'
____
Read all about the tests being done by Facebook to help businesses.
____
Find out how to survive Black Friday and Cyber Monday.
---
Related Articles:
The Fourth Industrial Revolution
0 comment(s)
---
The Sun Always Shines on the Sonique Side of Life!
0 comment(s)
---
ContinuitySA Partnership Programme Officially Launches
0 comment(s)
---
Intuition as a Leadership Tool – It's Like Having the World Wide Web in Your Head
0 comment(s)
---
Do You Really Know How Much It Costs to Manage Your Company Travel Manually?
0 comment(s)
---