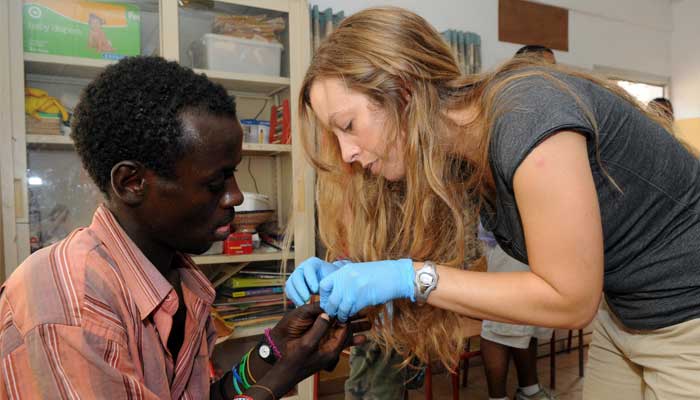 Find out more information on some great South African volunteer programs
South Africa is one of the most attractive destinations for volunteers around the world. As a volunteer in South Africa, you will observe a nation in the middle of a significant transformation, an exhilarating time to both volunteer and have fun.
If you are looking for a perfect blend of volunteering, learning, and adventure, you're looking at the right country! We have mountains to hike, waves to surf, traditions only found in rural villages, cities to explore and best of all, safaris.
Volunteer Programs in South Africa
There are ample opportunities for volunteering all over South Africa. Volunteers will be able to combine their interests and travel desires to find an ideally suited placement here. These are some of the options available:
Healthcare
South Africa is a country with the highest predominance of HIV/AIDS in the world, while simultaneously having the highest rates of tuberculosis and fetal-alcohol syndrome, among other diseases and conditions. Volunteers relating to health education, nutrition and medicine as well as raising awareness thereof, are greatly needed throughout the country.
From supporting nurses in public health clinics and hospitals to teaching mothers about appropriate nourishment for babies and children, your eyes will be opened to obstacles related to the system, personal challenges, and dedicated employees that will give you hope.
Children and Youth
Another volunteer opportunity stems from the poverty in South Africa with the high number of orphans left to be cared for, because of the AIDS epidemic.
Preparing meals, cleaning activity rooms and coaching sports may not seem like a big deal, but it affords the workers some much-needed time off to rest. Furthermore, schools in rural areas can use educational and recreational assistance to encourage and inspire the next generation.
You will be able to share your passion for education and sport with children who are in desperate need of teachers, coaches and mentors.
Environment and Animals
If volunteering with people isn't your thing, don't worry! There is an abundance of opportunities available to work with animals and the environment. You can volunteer at an animal rescue centre or work on wildlife or marine based research facilities of your choice.
For individuals who are looking for relevant career experience working in the field or the lab. or for those who mainly want to support conservation efforts and get up close and personal with some captivating wildlife, volunteering in South Africa makes complete sense.
South Africa is a very affordable destination, and even though it is possible to find even less expensive countries in Africa for volunteer work, you can expect most items to cost at least half the price of what it would cost in your country of origin.
To volunteer in South Africa, you will have to apply for a volunteer visa. This visa can be issued for up to 3 years. Contact Black Pen Immigration for assistance with your volunteer visa today.
____
Desalination plants: all you need to know.
____
Read all about the tests being done by Facebook to help businesses.
____
Find out all you need to know about the fuel price hike this Christmas.
---
Related Articles:
Miss SA Sponsors Congratulate New Miss Universe, Zozibini Tunzi on her World-Class Win
0 comment(s)
---
Managing Staff Leave
0 comment(s)
---
Top SA Residential Property Trends to Watch in 2020
0 comment(s)
---
Coal-driven Power Train is Running Out of Steam
0 comment(s)
---
How to Avoid Overspending this Festive Season
0 comment(s)
---