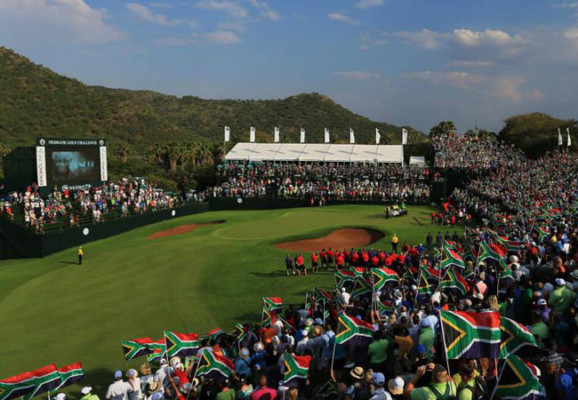 Super charged entertainment at Sun City
With thousands expected to descend on Sun City during the prestigious Nedbank Golf Challenge from 9 to 12 November 2017, the resort is set to unleash a super charged lineup of entertainment to bolster the spectator value after the last ball drops for everyone attending the world's richest and most anticipated golf tournaments.
The Public Hospitality Village will feature live bands every day while the rest of the resort's restaurants, bars and venues are also gearing up to entertain visitors. Kicking off the live entertainment on 9 November is Brent Harris and Thee Jam. Drummer Harris and guitarist Denholm Harding are both founding members of Super-Group Just Jinjer, one of South Africa's top selling bands with over a quarter of a million albums sold. In recent years Brent and Denholm have gone on to form a top calibre act being Brent Harris and Thee Jam, a cover band now considered one of the best South Africa has to offer. They perform after the last ball drops.
On 10 November, The Dixi Hillbillies do the honours. The vibrant folk-rock band comprises Gavin Hooker, considered one of the country's finest vocalists and guitar shredders; Keith Hutchinson, a Grammy nominated composer and multi-instrumentalist who co-founded Johnny Clegg's internationally acclaimed Savuka; Jerry Grove on bass; Roy Schoombie, hailed as one of SA's leading drummers and the founder of Drumthology (an up-liftment programme for destitute young people) and Johan Scheppel on violin, keyboard and vocals.
On 11 November, it is the legendary Mango Groove that will entertain spectators on the stretch. Needing little introduction, Mango Groove has been a household name on the South African music scene since 1984. The 11 piece band, with Claire Johnston on lead vocals, is known for their special fusion of pop and township music. They have released six studio albums and numerous hit singles during their career. The band's most recent album, Faces to the Sun, was released last year.
Closing the weekend entertainment on the 50M Stretch is two piece band, Me and Mr Green. Hailing from Cape Town, Me and Mr Green is a lively duo that performs a wide repertoire and is known for their close-to-the-real thing tribute show to Coldplay.
Sun City's lounges and restaurants, including Luma Bar & Lounge at Cascades hotel, Legends at Soho, The Brew Monkey at the Valley of Waves and the Shebeen will also feature live entertainment by local artists and DJs.
Exciting activities at Sun City over the Nedbank Golf Challenge:
Eat your heart out
With over 30 restaurants, Sun City caters to all tastes. Must tries are Bocado at the Cascades, Legends at Soho and The Brew Monkey at the Valley of Waves
Party all night
Soho (formerly the Sun City Hotel) is Sun City's always on party zone. Soho boasts an exclusive dance club, Encore, a vibrant bar, Vibes, as well as new restaurants.
Encore will be open from Thursday, 09 November to Saturday, 12 November between 22h00 and 04h00 with resident DJs Choco and DJ Felix on the decks accompanied DJ Jazzy D. Vibes is open daily from 12h00 till late.
Go on safari
Sun City is a five-minute drive from the game-rich and malaria-free Pilanesberg National Park where you can spot the Big Five.
Ride and slide
There are now seven thrilling slides to try at the Valley of Waves, with a ride for every comfort level, from an easygoing tubing experience to semi-submerged waterslides that spiral downhill.
Go wild at Adrenalin Extreme
At the outdoor adventure hub, Adrenalin Extreme, you can go wild, delving into activities like Drift Trikes, Hovercrafts, The Accelerator and quad 4×4 challenge.
Experience Zip 2000
With an average speed of 120 km/h, two kilometres long and reaching speeds up to 160km/h, it is still one of the world's longest zip slides.
Water sports galore
At Waterworld you can try water sports such as parasailing, waterskiing, jet-skis, paddleboats, a wake snake, wake boarding and boat rides.
Fun and games for kids
Children can enjoy supervised workshops at Kamp Kwena or try out Finders Keepers, Rock Venture Golf, Kazooma Raceway, Long John Silver Bumper Boats, a playground and the Stimela Train.
Get to know South Africa's legends
The South African Hall of Fame is an interactive exhibition where you can test your skills on simulators and learn more about your heroes on touch screens.
For more information about Sun City and all the changes visit #NewSunCity connect with us on Facebook SunCitySA or follow us on Twitter SunCityResortSA and Instagram @SunCityResortSA.
____
Desalination plants: all you need to know.
____
Read all about the tests being done by Facebook to help businesses.
____
Find out all you need to know about the fuel price hike this Christmas.
---
Related Articles:
TSIBA Helps Entrepreneurs Leap Forward in the Business World
0 comment(s)
---
Zoom Fatigue - Five Reasons Why You Want to Step onto a Plane Again
0 comment(s)
---
Supporting Small Business Through Ecosystem Boost
0 comment(s)
---
The Africa Continental Free Trade Area Protocol on Investment: A Prickly Pear for SADC and other Regional Economic Communities
0 comment(s)
---
#TakeControl Over Your Debt!
0 comment(s)
---