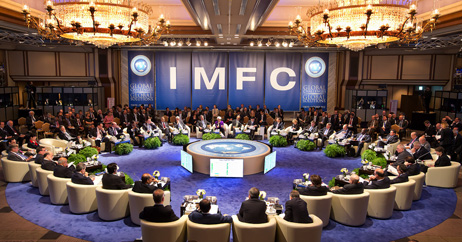 Global economic growth forecasts
16 October 2017: The International Monetary Fund (IMF) announced updated global economic growth forecasts last week. It now expects growth to be faster than it did a few months ago, largely due to an acceleration in growth in the US, Europe and China.
The global economy is expected to advance by 3.6% (real purchasing power parity adjusted in US dollars) in 2017 and 3.8% next year. This is up from 3.2% in 2016, the worst year since the 2009 worldwide recession. The US is expected to grow by 2.2% this year, and the Eurozone by 2.1%. The latter is probably the most positive story for the global economy, as Eurozone growth lagged the US for a long time due to its (largely self-imposed) double-dip recession. As a result, the US economy is 30% larger than early 2008 before the global recession, while the Eurozone is only 15% larger. Even after a few quarters of accelerating growth, there should still be plenty of pent-up demand as unemployment is still falling after almost a decade of growth disappointments. Japan's growth rate is expected to be 1.5% this year, up from 1% last year and robust by its standards.
Among emerging markets, China's growth rate of 6.8% this year is up slightly from the previous forecast. It is expected to slow somewhat to 6.5% next year, but this is still breakneck speed for an economy of this size. Russia and Brazil have both exited a recession and should see modest growth this year and the next. India is a disappointment, after being the darling of the emerging markets over the previous few years. Two key reforms (introducing a nationwide sales tax and removing large denomination banknotes from circulation) have impacted economic growth significantly, and the IMF cut this year's forecast by 0.5% to 6.7%. However, these reforms should bear fruit over the long term.
Upgrades, not downgrades
The significance of referring to the IMF's forecasts is not that they are very accurate – forecasts are inherently difficult and always require a sizeable pinch of salt – but that their direction has changed. From 2012 to 2016, every revision to the IMF's global growth forecast was down, i.e. growth expectations were continuously lowered. But now they are lifting. This increased optimism is also visible in financial markets. Stronger global growth means companies can grow their revenues and hence their profits. No wonder global equity markets are setting new records.
Be wary of itchy trigger fingers
The biggest risk to the global economy comes from the major central banks' prematurely tightening policy, i.e. hiking interest rates and cutting quantitative easing. Although inflation is still very low globally, the risk is that central banks overreact to falling unemployment, which has always been assumed to result in rising inflation (even though falling unemployment has not resulted in a sustained rise in inflation in this cycle).
The US Federal Reserve is the furthest along the path of tightening, and it is also by far the most important central bank given the outsized role the dollar plays in global finance and trade. Minutes of its recent monetary policy meeting released last week showed an intense debate around whether low inflation is permanent or transitory. How this debate plays out in the boardroom at the Eccles building in Washington could have ramifications in far-flung corners of the globe, very much including the southern tip of Africa. While a December rate hike is still expected, and the Fed is gradually letting maturing bonds roll off its balance sheet, future rate hikes are still likely to be very gradual and limited. The risk remains that the Fed might have a new chair in March unless President Trump reappoints Janet Yellen. Some of the other leading candidates unfortunately have a history of seeing imaginary inflation behind every rock.
The European Central Bank (ECB), faced with a much stronger economy than a year ago, is also expected to announce a tapering of its bond buying programme soon, though it is likely to maintain negative interest rates for some time. The ECB witnessed "first hand" the negative impact of a premature rate hike in 2011, so hopefully they learnt their lesson.
South Africa's confidence shortfall
South Africa is one of the few countries that had its forecast for this year and next year lowered by the IMF. Our growth is expected to be only 0.7% this year and 1.1% in 2018 (up from 0.3% in 2016). It is really a sad day when our growth is forecast to be slower than Japan's.
Recent research from the Reserve Bank shows the impact of weak confidence on the economy. If consumer and business confidence had been at average levels between 2014 and 2016, instead of deeply depressed, growth would have been around one percentage point higher in each of those three years (and probably in 2017 as well). It is therefore crucial that the upcoming medium-term budget contains steps from Government to stabilise and raise confidence. More realistically though, we probably need to wait for the outcome of the ruling party's December elective conference before anything can change materially.
A jump in mining output
In the meantime, a stronger global economy should help us as a small open economy. Perhaps the jump in mining production in August is an early sign as the mining sector is clearly tied to the global cycle instead of domestic demand. Mining does, however, have broader spill-over effects. As the president of the Chamber of Mines noted, mining remains the flywheel of the South African economy, and when mining does well, it lifts other sectors. Mining production increased 6.9% year-on-year in August, well ahead of expectations. Manufacturing production also grew faster than expected.
Finally, when thinking about the economic links between South Africa and the rest of world, the exchange rate is obviously important. A strong rand means export revenues suffer even if global demand is strong. A weak rand does the opposite. Similarly, a strong rand reduces the value of hard-currency assets for local investors, while a weak rand reduces the value of South African assets for foreign investors (all else being equal). The rand has been volatile over the past month or so, weakening from R12.80 to R13.80 per dollar between early September and early October. However, it is now back to R13.30 and has moved broadly sideways against the dollar, euro and pound over the past year. At current levels, the rand can be considered to be more or less fairly valued against the dollar and euro, neither too strong nor too weak, and the impact on trade and investment should be neutral. However, it does not have a history of remaining at fair value for long.
____
Read about Cape Town's plans for desalination plants.
____
Find out how the fuel prices will increase this festive.
____
Read how you can avoid ATM scams.
---
Related Articles:
Why Millennials are Losing Their Hair
0 comment(s)
---
Removing Vulnerability in Residential and Commercial Estate Management
0 comment(s)
---
What Employers Need to Know About Hearsay Evidence
0 comment(s)
---
Unpacking the BEE Management Tool
0 comment(s)
---
IBA Group Opened a Digital Twin Laboratory
0 comment(s)
---